Melania Trump Lambasted For 'Never Calling Out' Donald; FLOTUS Criticized For 'Using Kids As Props'
Melania Trump has garnered several fans and critics alike since she moved into the White House in 2017. Despite being a favorite subject to criticisms and endlessly compared to former FLOTUS Michelle Obama, Melania continues to focus on working on her campaigns and attending important public engagements. Recently, however, the former model was lambasted again for never calling out President Donald Trump.
MSNBC reporter Joe Scarborough criticized Melania after she expressed anger over an impeachment inquiry witness last week. The journalist accused the FLOTUS of being hypocrite for "saying nothing" about President Donald Trump's demeanors. Joe said the POTUS had done worse things than what Stanford law professor Pamela Karlan did.
"By the way, Melania Trump, I'm still waiting for her to ask her husband to apologize for face-shaming my wife, lying about my wife, saying that she was bleeding badly from a facelift, taking a personal conversation, a private conversation and she never — never did anything," Joe said. "I think she actually attacked Mika, and for her husband lying and face-shaming and talking about, you know, seriously this is — these people have no — think about all the people that Donald Trump has attacked viciously and Melania Trump has quietly sat by and said nothing," he went on.
Joe Scarborough added he did not hear Melania Trump yell out at the President when the latter, allegedly, called him a murderer. He even described the FLOTUS's comment on the legal scholar's statement about Barron Trump as a "faux outrage" since she could never do that to her own husband. Melania has yet to comment on the reporter's remarks.
Meanwhile, the mom of one created another Twitter storm after she visited the Children's National Hospital on Friday, Nov. 6, in Washington, D.C. Detractors condemned Melania Trump for taking a trip to the pediatric care provider for a Christmas event.
"Thank you children's health for inviting me to join your joyous Christmas event," Melania wrote on Twitter, along with some photos of herself and the kids. "Many thanks to all of the doctors and nurses who go the extra mile to put a smile on children's faces this holiday season," she went on.
"Using sick kids as props. But dont say barren thats cruel to use a kid. Flotus is a hypocrite. Remember using that baby whose parents were Mexican flotus just had to use that babe for to look human. Epic fail monster mama," a netizen commented on her post. "So sickening how each photo is perfectly timed with the single token sign of affection...a couple of fingers on these sick children. Michelle Obama...a true First Lady - the People's First Lady, would hug and show LOVE to these beautiful babies. You disgust me," another Twitter user said.
Despite the condemnations, devoted supporters praised Melania for giving time to the sick children admitted to the said medical institution. "Wonderful job My FLOTUS. Bringing a moment of joy to the sick lil angels. You are The Best!!" Bettejane Lugari stated. "I love your kindness, grace and the genuine heart that you show each and every day. You brought these children such happiness. God Bless you," Bonny Vickers responded to the FLOTUS's post.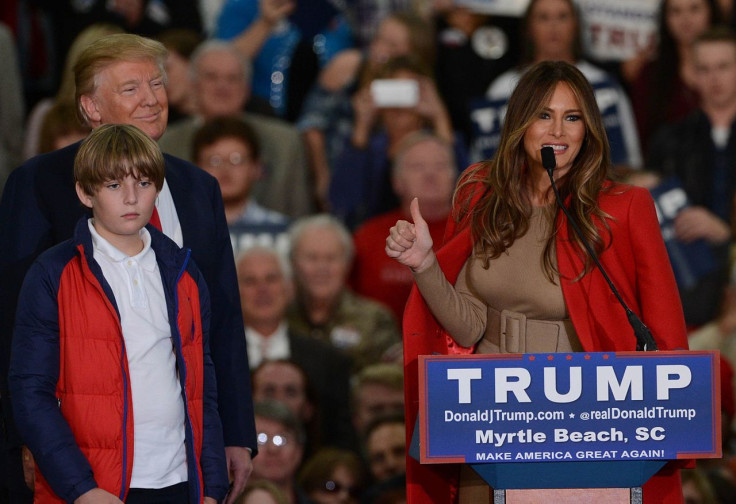 © Copyright IBTimes 2023. All rights reserved.