Melania Trump Revelation: POTUS's Wife Is Not A 'Hostage', Reportedly Different From Former First Ladies
KEY POINTS
Melania Trump does not feel 'trapped' despite what the public thinks
The FLOTUS is, reportedly, 'very warm' and 'very friendly'
Melania Trump works and acts independently from President Donald Trump
Melania Trump is, without a doubt, one of the most followed women today. Avid followers of President Donald Trump's wife love how she carries herself during official and public engagements, including her fashion choices. Some also admire Barron's mom for her active involvement in various campaigns and causes that focus on the general well-being of children and youth.
While some think that Melania loves the attention and privileges of being the First Lady of the United States, there are also a few who claimed that the former model feels "trapped" as she, allegedly, never dreamed of assuming the role of Michelle Obama in 2017. However, CNN reporter Kate Bennett claimed that Melania is not feeling like a "hostage" at all.
"No. This is another thing that surprises people: She really digs living in the White House," the author of "Free, Melania: The Unauthorized Biography" book said Washingtonian. "I don't think she would have chosen to be First Lady, but now that she's there . . . . I've never thought she was trapped," she went on.
Kate revealed that Melania is, actually, "very warm" and "very friendly" in real life, which is very different from what the public assumes. The writer even revealed that she appreciates how the current FLOTUS thinks and acts independently from President Donald Trump.
"Being First Lady sucks in so many ways that I almost appreciate the way she's been like, I'm not going to hold his hand. We've watched so many political wives stand there in those awkward moments. She hasn't commented on impeachment at all," Kate Bennett stated. "Hillary Clinton went to Capitol Hill during [the Monica Lewinsky scandal] and said: I know what he did, it's horrible, it's terrible, but we've still got to support him. Melania's like, I think I'll talk about vaping today," she continued.
In an interview with CNN's 'New Day' show, per Real Politics, Kate Bennett described Melania Trump and Donald Trump as "independent" couple. She even shared that the FLOTUS loves her own space and spend time alone. Though the first couple, allegedly, does not share a bedroom together, Kate said they found a way to make their marriage work.
In Dec. 2019, the White House released an official statement, criticizing Kate's "Free, Melania: The Unauthorized Biography" book. Stephanie Grisham told People Melania Trump was surprised at the journalist's revelations. She claimed that the book includes several "false details and opinions" from phony sources.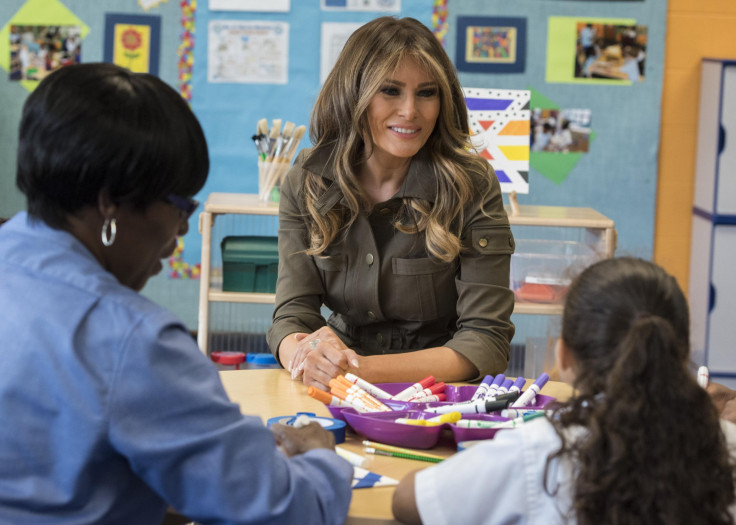 © Copyright IBTimes 2023. All rights reserved.