Merck & Co. Earnings Preview: Q4 Benefits from Diabetes Drugs, Cost Reductions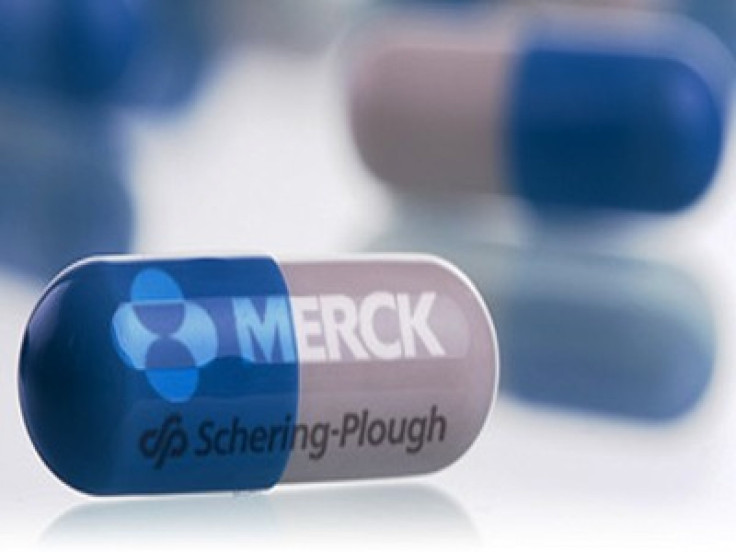 Merck & Co., the second-largest U.S. drugmaker, is projected to report stronger fourth-quarter profit on double-digit growth of key products, an increasing emerging markets presence and further cost reductions.
Merck & Co. Inc. (NYSE:MRK), which reports earnings Thursday before the markets open, is expected to post a profit of 95 cents per share, up eight percent from a year ago when it reported earnings of 88 cents per share, according to analysts surveyed by Thomson Reuters.
Revenue is projected to surpass the year-earlier total of $12.09 billion by 3.6 percent, finishing at $12.53 billion for the quarter.
For the year, Wall Street is forecasting earnings of $3.76 per share on revenue of $48.23 billion.
The Whitehouse Station, New Jersey-based company said it expects to record full-year earnings of $3.72 to $3.76 a share, with revenue growing in the mid-single digit percent range.
It's going to be more of an in-line type of quarter, said Damien Conover, an analyst at Morningstar Inc. in Chicago. All the trends are matching up with what we are anticipating.
Best-Selling Pills
Strong sales of key medicines is one such trend.
Merck has at least 11 products that each sells more than $1 billion globally.
Singulair, Merck's best-selling drug that treats asthma and allergies, contributed $1.3 billion to the company's top line in the third quarter, and it's projected to grow another 15.8 percent in the fourth quarter.
With Singulair coming off patent in August 2012, the next blockbuster product for Merck is the Januvia/Janumet franchise, which has already secured the top position in the global oral diabetes market.
Januvia is an oral treatment for diabetes and it's better than the shots, said John Eade, president and senior analyst of Argus Research Co. in New York. So we do look for good results out of Januvia.
More than 346 million people worldwide have diabetes and it's predicted to become the seventh leading cause of death in the world by 2030, according to the World Health Organization.
Worldwide sales of the Januvia family soared 41 percent to $1.2 billion in the third quarter of 2011, driven by growth in all regions.
Analysts expect the Januvia franchise to record another double-digit growth in the fourth quarter.
Emerging Markets
Sales of prescription drugs in the emerging markets accounted for 17 percent of Merck's total pharmaceutical business -- worldwide sales reached $12 billion -- during the third quarter. In China, which the company described as a key growth driver,'' sales are expected to increase over 30 percent in 2011.
Merck is growing faster than the overall market, including leading multinational companies and also local companies in China, said Adam Schechter, president of U.S. Global Health at Merck, during a Nov. 10 conference call with analysts.
Merck's sales in China grew faster last year than that of all competitors, Schechter added.
For the whole year, Merck expects emerging markets to represent 18 percent of its sales. In 2013, emerging markets are expected to account for 25 percent of Merck's pharmaceutical and vaccine sales.
Cost-Savings
Kenneth Frazier, Merck's chairman and CEO, told analysts in November the company is determined to grow the bottom line faster than the top line.
MKM Partners analyst Jon LeCroy said Merck's ability to beat analyst estimates depends on its cost cutting.
The most important thing to continue to watch for in the fourth quarter is cost-cutting, which is largely driven by the acquisition of Schering-Plough, Conover said, referring to Merck's $41 billion purchase of Schering-Plough in November 2009.
Last July Merck said it would cut about 13,000 jobs by the end of 2015, besides the 20,000 jobs it expects to shed by the end of 2011. The restructuring will save more than $4 billion a year in combined operational costs, Merck said.
Job cuts will come mostly from administrative positions, consolidation of offices and sale or closure of manufacturing sites.Merck had 100,000 employees by the end of 2009. Company filings show that as of Sept. 30, 2011, the company had reduced that figure to 90,000. More reductions are expected in the fourth quarter.
Stock Performance
The Federal Reserve's decision last week to hold interest rates at rock-bottom levels at least through late 2014 has put Merck in play. The news is expected to push more money out of Treasuries and into stocks as investors seek better returns.
One of those stocks that could offer better returns would be Merck, which increased its quarterly dividend by 11 percent to 42 cents per share in November, giving it a dividend yield of more than four percent. That's much better than the benchmark 10-year Treasury note, which recently has been yielding well under two percent.
Since Nov. 1, 2011 Merck & Co. Inc.'s (NYSE:MRK) stock has risen 12.72 percent to close at $38.89 on Jan. 31, 2012.
One of Merck's main competitors in the pharmaceuticals industry is Johnson & Johnson (NYSE:JNJ). Other competitors include: Pfizer Inc. (NYSE:PFE), Eli Lilly & Co. (NYSE:LLY), Bristol-Myers Squibb Co. (NYSE:BMY) and GlaxoSmithKline Plc (NYSE:GSK).
© Copyright IBTimes 2023. All rights reserved.