Meryl Streep Poses With 'North Korean Army General' At Golden Globes; Twitter Reacts To Photos, Benedict Cumberbatch Photobomb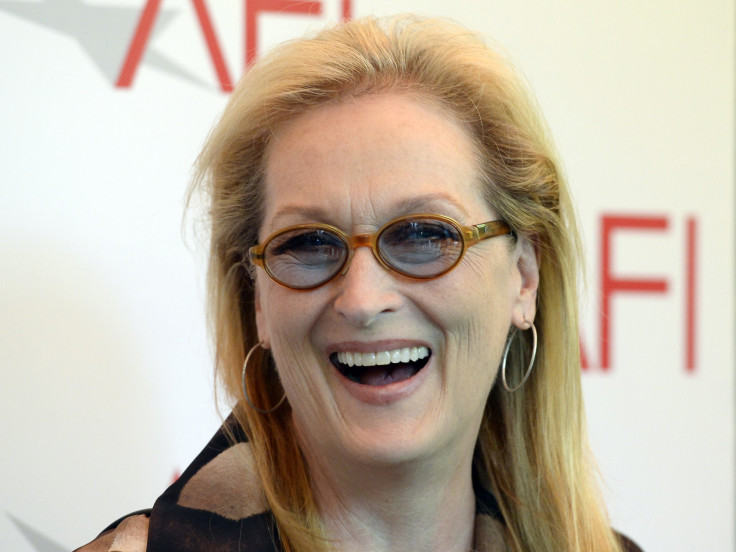 Following the "The Interview" film controversy, the 2015 Golden Globe awards hosts, Tina Fey and Amy Poehler, made several jokes about North Korea during their opening skit at the 72nd annual Golden Globe awards Sunday. But their jabs about the East Asian country didn't stop there.
During the show, the duo took a moment to introduce a new member of the Hollywood Foreign Press Association (HFPA), a female contributing journalist for Movies WOW Magazine and a North Korean Army General. After announcing the HFPA's supposed new member, the camera panned to show comedian Margaret Cho portraying the role of the North Korean general.
After a few awkward moments, a stone-faced Cho made it known that she wanted a photo op with "Into the Woods" nominee actress Meryl Streep. While originally feigning reluctance, Streep, 65, eventually posed with Cho and even held up a copy of the fabricated magazine— a publication which featured an image of North Korea's supreme leader, Kim Jong-un.
But the fun didn't stop there. While actor and "Birdman" nominee Michael Keaton snapped the photo of the unlikely pair, "The Imitation Game" star and fellow nominee Benedict Cumberbatch jumped up in the background and photobombed the image.
"Do it for all of us, Meryl," Poehler told Streep.
"You love Korea. Everyone knows it," Fey added.
As expected, Twitter has exploded following the unforgettable 2015 Golden Globe awards skit. Check out a few of the reactions below:
Click HERE to watch the Golden Globes live stream.
© Copyright IBTimes 2022. All rights reserved.
FOLLOW MORE IBT NEWS ON THE BELOW CHANNELS