Metallica Ends Napster Feud, Joins Forces with Spotify To Add Catalog, New Features
CEO Daniel Ek also introduced new personalization options for music-streaming service.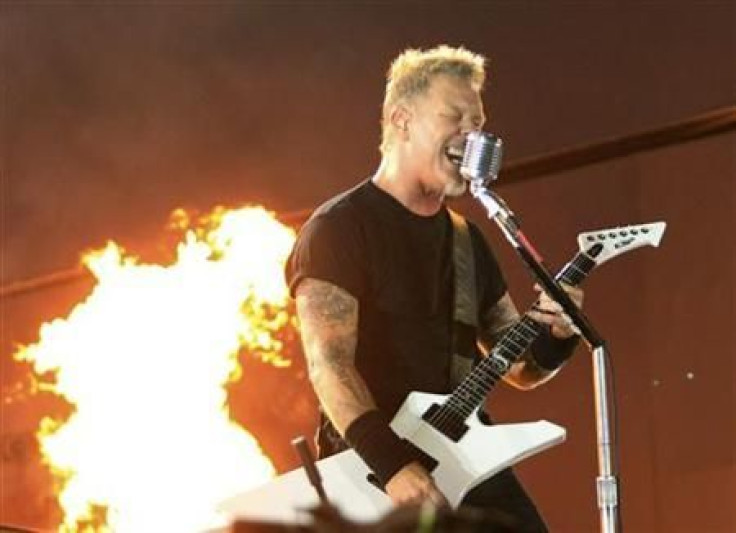 Music streaming startup Spotify has finally won over Metallica, the legendary U.S. heavy metal band that has long served as a figurehead for the music industry's opposition to new forms of web-based distribution.
The band is now making its entire music catalog, spanning more than three decades, available on Spotify.
The members of Metallica appeared alongside executives and board members from Spotify, including Sean Parker -- the co-founder of Napster whose peer-to-peer music sharing first sparked the band's criticism of online piracy years ago -- for a press conference in New York City Thursday afternoon, CNN reports.
In 2000, Metallica filed a $10 million lawsuit against Napster that accused the file-sharing network of copyright infringement. Napster was forced to remove users who had downloaded the content and police its own material for pirated content. The company ultimately filed for bankruptcy in 2002. it was later acquired by Roxio, then a subsidiary of Rovi (Nasdaq: ROVI), and was restructured as a subscription-based website that was launched in 2011.
At Thursday's conference, however, it appeared that any hard feelings between the band and Parker had been resolved. Metallica drummer Lars Ulrich and Parker even hugged, announcing that they had settled their differences.
"Metallica has always tried to be in control of the way we present our music to our fans, which is why we've waited to see the way these online retailers and streaming services operate and gauge the overall fan experience before deciding to include our music," Ulrich said. "We now feel that Spotify not only has a proven track record, but is by far the best music streaming service. We are beyond psyched to unleash our music through their platform."
Spotify CEO Daniel Ek, who announced a number of new features for the service at the press conference, was also pleased to resolve any dispute between his company and what he called "one of the most influential and successful bands in history."
"I learned to play electric guitar by listening to 'Enter Sandman,' and my hope is that a new generation of fans will find the same connection to this amazing music through Spotify," Ek said.
Parker said he regrets the conflict with Metallica, suggesting that the major record labels that were threatened by his former business staged a massive media campaign to vilify Napster as a haven for online piracy.
"Back in 1999 we were depicted as these greedy pirates that basically were just trying to create a free-for-all and enable the stealing of music," Parker said earlier onstage at a Metallica concert in London, according to the BBC. "We just wanted to make music more free as in freedom, not free as in theft."
At the New York press conference, Parker added that if "we'd just sat down and talked about what our intentions were," the lawsuit between Napster and Metallica could have been avoided entirely.
Along with the amicable resolution, Spotify also introduced a number of new personalization features for its service on Thursday, presented by Ek. A new "Follow" tab allows users to see recommendations from friends on social networks like Facebook (Nasdaq: FB), Twitter and Tumblr. Users can also follow "influencers" such as musicians or music publications that curate choice content through the site.
A new "Discover" tab, meanwhile, will list all these recommendations and recommend new music for users based on their ratings, listening history, and the artists and fellow Spotify users they choose to follow. Users can then save songs and albums to a "Collection" to compile and curate their own playlists.
"This means everyone's Spotify is going to look different," Ek said. "If you're a metal fan, Spotify will be all about metal."
Ek said the features will be introduced on Spotify's desktop application in the coming weeks and the mobile and web versions of the service early next year.
© Copyright IBTimes 2023. All rights reserved.