Metta World Peace And Nancy Grace Have Made A Lifetime Movie That Debuts In November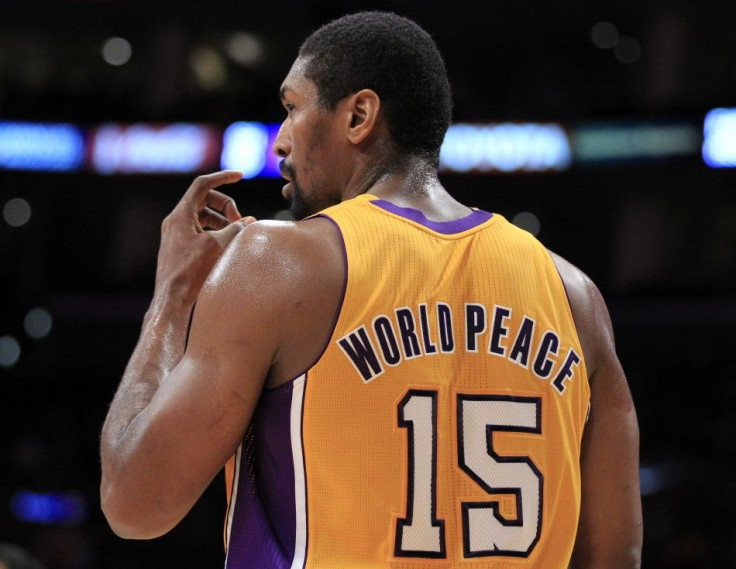 In his spare time, when he's not delivering vicious elbows, diminishing returns and fan assaults, Metta World Peace, the hoopster formerly known as Ron Artest, has taken to the big screen.
According to the Wall Street Journal, World Peace is set to make his film-acting debut in an adaptation of Nancy Grace's first novel, "The Eleventh Victim." It will debut Nov. 3 on Lifetime.
The acting bug is nothing new to World Peace, who's starred in such critically acclaimed hits as BET's "Read Between The Lines," and, before that, a video titled "Murda Muzik," where his co-star was none other than the estimable Chinky. Before the "Eleventh Victim" though, World Peace had yet to act in a film.
In the Nancy Grace joint, World Peace will play a detective, which is ironic considering Ron Artest's former legal and disciplinary problems, including a 2007 arrest for domestic violence. And then there was that whole Pistons-Pacers brawl where he went into the stands and punched a spectator, but who remembers that anymore?
Past transgressions aside, World Peace stars alongside former "Beverly Hills 90210" babe Jennie Garth, who plays an Atlanta district attorney [SPOILER ALERT IF ANYONE ACTUALLY PLANS TO WATCH THIS] bent on putting a serial killer behind bars. Just wait though: As she's pursuing a conviction, Garth's fiancée dies, so she moves to New York City and becomes a therapist -- you know, because she's so altruistic that the only way she knows how to clear her mind of the decapitated heads and mangled torsos she's seen is by providing shoddy, amateur psychiatric advice to others.
BUT WAIT, THERE'S MORE! Garth's clients start turning up dead (HIPAA can't save you now!) and the New York killer's M.O. is the same as the Atlanta serial killer's AHHHH.
Nancy Grace, histrionically bloviating about massive amounts of dead people -- it all seems to make sense. It's just a surprise it's taken this long for Grace to exploit the real life horrors she's "reported" on for her own personal gain.
One question about this Hitchcockian masterpiece remains, however. How exactly did two polar opposites like The Uncontrollable Personality Formerly Known As Ron Artest and Nancy Grace hook up on a movie? That's like Lawrence Taylor and Anne Coulter collaborating on a children's show.
Well, it seems, Grace and World Peace met on the set of "Dancing With the Stars," where, according to the Journal, Grace was impressed by not only World Peace's acting, but also by the screen presence of another faux celebrity on "DWTS" -- none other than Jennie Garth. Let this be a lesson to all of you casting agents out there -- if you aren't grabbing Oscar talent directly from "DWTS," then you're falling behind.
We know you all will be watching World Peace's "long film" debut, as he so eloquently referred to it on Twitter, but will the aging star have to sneak out during halftime of the Lakers' game so he can prop himself up in the locker room with a nice glass of Hennessey and watch his film showcase? Well, the Lakers are off that night, so thankfully World Peace can do all of that and more in his own home.
© Copyright IBTimes 2023. All rights reserved.
FOLLOW MORE IBT NEWS ON THE BELOW CHANNELS