Michael C. Hall Divorce Finalized: Who is 'Dexter' Star Dating Now?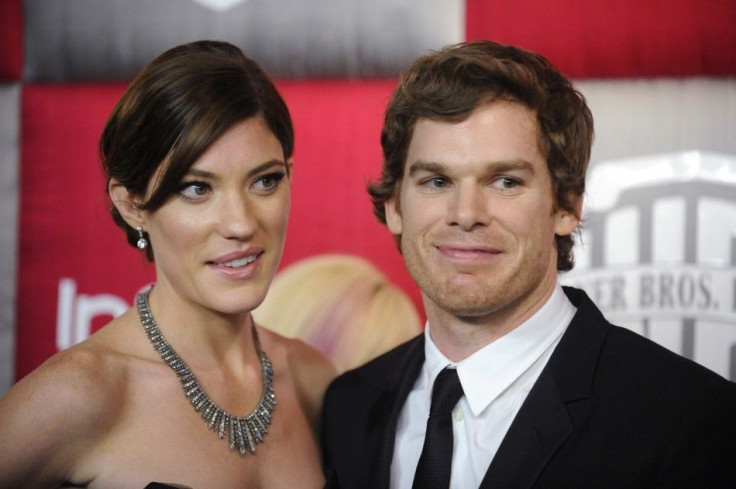 Dexter siblings and real-life partners Michael C. Hall and Jennifer Carpenter have finalized their divorce. After a year of separation follow the pair's tumultuous romance, Hall has been linked to Dexter love interest Julia Stiles, who denied breaking up the pair, and to a mystery woman on the Showtime set.
As Hall and Carpenter finalize their split, however, new rumors have sprung up about the handsome actor, and many fans of the Showtime program are asking: who is Michael C. Hall dating now?
Whirlwind Romance on 'Dexter' Set
Michael C. Hall, 39, and Jennifer Carpenter, 32, met on the set of Showtime's hit series Dexter, with Hall playing the eponymous lab tech by day/serial killer by night and Carpenter in the role of his sister Deb.
The pair had a whirlwind romance, eloping in 2008. Carpenter and Hall appeared to be going strong even when Hall was diagnosed with Hodgkin's lymphoma, a form of white blood cell cancer.
By the summer of 2010, however, Carpenter had filed for divorce, citing irreconcilable differences. A judge with the LA Superior court finalized the split on Dec. 2, 2011. The two remain close friends.
Julia Stiles: I Didn't Break Up Hall-Carpenter Marriage
Back when Jennifer Carpenter initally split in 2010, rumor-mongers paired Michael C. Hall with another Dexter co-star: the woman playing his accomplice and love interest in season five, Julia Stiles.
Stiles and Hall were first paired together when tabloids caught the actress gushing about her co-star on the Golden Globes red carpet. He's terrific, she told reporters. He is so sweet and it [filming] was great.
Photos of the two actors cozying up together off-set didn't help the rumors that Stiles,29, was the reason Hall's marriage to Carpenter fizzled. Firing back against the rumors, Julia Stiles denied dating her Dexter co-star, and insists she had nothing to do with the Carpenter-Hall divorce.
I have absolutely nothing to do with the split between Michael and Jennifer. We are good friends and enjoyed working together, Stiles told US Weekly. This is a personal matter between them, and we should respect their privacy.
Stiles added: Although I too prefer to keep my private life private, I felt compelled to dispel the rumors I was somehow the cause [of the divorce].
Hall's Mystery Woman: Vanessa Abrue
Though some Dexter fans suspect or even hope that Hall and Carpenter will get back together, or that Hall is secretly dating Julia Stiles, reports from the summer indicate the Showtime star found a new, secret girlfriend last winter: 25-year-old Vanessa Abrue.
Hall allegedly began dating Abrue, who works for Shwotime, only three months after Jennifer Carpenter filed for divorce. He managed to keep the relationship a secret for five months, until sources spilled to RadarOnline that the couple was getting serious.
No one would ever suspect these two were together because she isn't what anyone would expect Michael to be with, the insider said. When they do [go out], it's always with a group of people so no one would suspect he's with someone.
Some called the relationship a mid-life crisis on Michael C. Hall's part, speculating that his bursh with death and his taste for younger women was what left Jennifer Carpenter cold. The actor is fifteen years older than Vanessa Abrue, and their relationship remains unconfirmed by Hall to the tabloids.
On Abrue's part, however, it seems the romance is going strong.
Vanessa would constantly talk about Michael texting her at all hours of the night but said she thought it was all worth it, the source said. I don't think Michael realizes how much Vanessa talks about him to friends.
Michael C. Hall had been married once before his relationship with Jennifer Carpenter. He married actress Amy Spanger in 2003, and the couple went on to star in the Broadway musical Chicago together. Hall and Spanger divorced in 2006.
© Copyright IBTimes 2023. All rights reserved.