Microsoft Gets Stock Boost After Morgan Stanley's AI-Driven $3 Trillion Valuation Outlook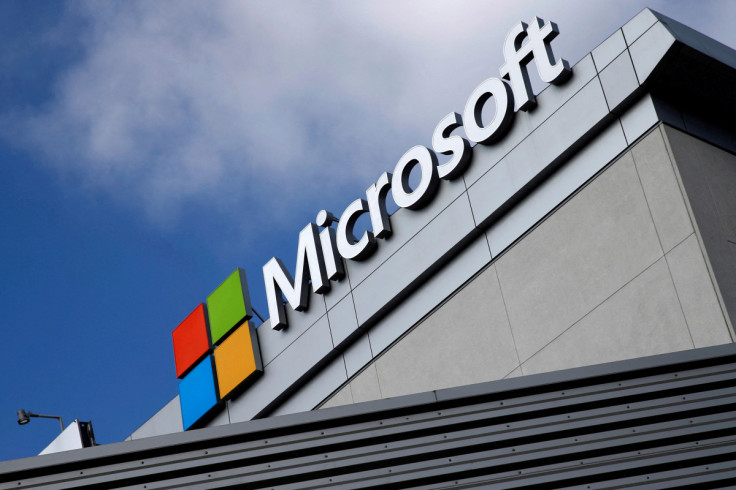 KEY POINTS
Morgan Stanley's Weiss said AI integration could drive Microsoft's pricing growth
Microsoft stock is already up by over 40% this year
Microsoft invested billions into OpenAI, the company behind ChatGPT
Tech giant Microsoft saw a boost in its stock price Thursday after investment bank Morgan Stanley predicted that the OpenAI backer is poised to reach a $3 trillion valuation due to its position in the generative AI race.
"Generative AI looks to significantly expand the scope of business processes able to be automated by software, and Microsoft stands best positioned in software to monetize that expansion, which accompanied with a still reasonable valuation makes Microsoft our Top Pick in large cap software," Morgan Stanley analyst Keith Weiss said in a Thursday note, as per Insider.
Weiss also told CNBC on Thursday that Microsoft has the necessary applications to "drive new revenues" through AI integration, which indicates room for valuation growth.
According to Morgan Stanley, Microsoft has a 22% upside potential due to its "pole position" in the generative AI race and this could propel the company to hit a $3 trillion valuation. For Weiss, Microsoft has the ability to leverage its billions in investment to ChatGPT maker OpenAI and this could result in a $90 billion incremental opportunity for the computer software tools provider.
Weiss went on to note that Microsoft could get a lot of pricing power from integrating its software products with artificial intelligence. The bank increased its price target for Microsoft from $335 to $415 Thursday. The new target price implies a Microsoft valuation of around $3.1 trillion.
Following Morgan Stanley's bullish predictions and price target hike for Microsoft, shares traded up more than 1% Thursday to $342.85 per share.
Microsoft is already enjoying a 42% share rally this year, and many Wall Street analysts are overwhelmingly bullish on the stock.
Morgan Stanley's high hopes for Microsoft came days after iPhone maker Apple became the first American company to close the trading day Friday with a market capitalization of over $3 trillion.
Apple's rally toward a $3 trillion-valued company started after it launched the iPod with a market cap of $5 billion in 2000. The company went on to launch the iPhone and iPad and by 2012, Apple's value reached $500 billion.
Meanwhile, Microsoft shares have also been rallying in recent months, especially after OpenAI released the latest version of ChatGPT in March. In the week of the chatbot's launch, Microsoft shares were up by 6.5% as per Forbes.
Microsoft's $10 billion investment in OpenAI appears to have had a quick effect on its stock after ChatGPT's viral rise in the tech space.
Earlier in March, Credit Suisse also tagged Microsoft as a "Top Pick," noting that the big tech giant's expansion of its partnership with OpenAI helped propel the company to the top of software stocks. In particular, Credit Suisse predicted that over the next five or more years, Microsoft may gain $40 billion in revenue and $2 in earnings per share.
There have been concerns about AI stocks possibly being overhyped. Credit Suisse analysts said that Microsoft is still likely to benefit from the popularity of OpenAI's chatbot, especially if it successfully pulls off the integration of OpenAI technology within its Office 365 product set.
© Copyright IBTimes 2023. All rights reserved.