Miley Cyrus Calls Out NYFW On Instagram As Boyfriend Liam Hemsworth Proves Love Between Animals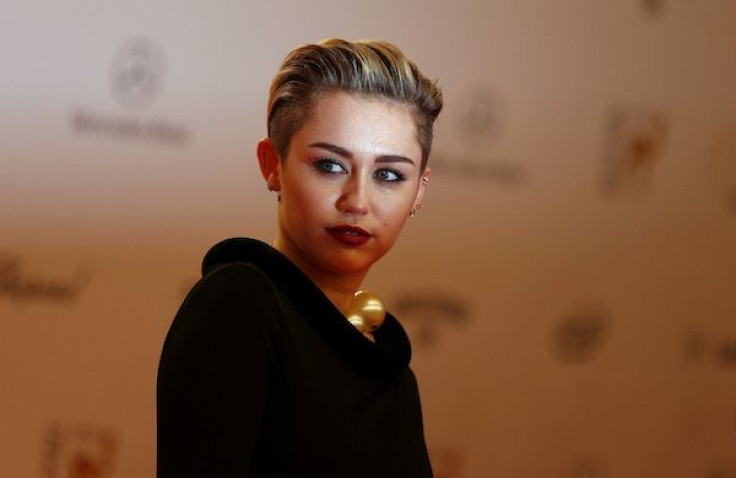 Miley Cyrus is a self-proclaimed animal lover, and she's very vocal about it. The "Wrecking Ball" hitmaker's compassion for animals is evident in how she's managed to take care of her always-growing number of pets despite her busy schedule. Therefore, it does not come as a surprise that Cyrus is also against one of the hard-to-contain trends in the fashion world: fur.
On Friday, the "Hannah Montana" actress called out New York Fashion Week designers and reminded them that "fur is dead." Liam Hemsworth's girlfriend also emphasized the need for people patronizing this trend to "love animals [and] don't wear them."
Cyrus did not end her reminder there. She added that feathers, leathers and silks are also part of this campaign against the use of animals for vanity. The singer-actress accompanied her friendly reminder with a photo of her donning a black shirt that says "fur is dead," while receiving some affection from her black-and-white mix pet dog, Mary Jane.
Prior to calling out NYFW, Cyrus was in the mood to pose for some snaps with her pet dogs Dora, Emu and MJ. She admitted in one of her posts that she's obsessed with her pets and loves puppies and animals in general. While Cyrus just showed off three of her pooches in the Instagram photos she uploaded, she actually has more animals in the house. She currently has seven dogs, three cats, two pigs and two mini horses, as per E! News.
Aside from sharing snaps of her pet dogs on Instagram, Cyrus also urged her millions of fans and followers on the photo-sharing platform to support the petition of the Beagle Freedom Project. The movement is strongly against the decision of the Department of Agriculture's Animal Plant Health Inspection Service to remove its online database because doing so would dissolve the transparency needed to expose the use of animals in laboratory experiments. Upon sharing the petition, many fans lauded the singer for what she is doing. One wrote: "Best cause you are fight for." Another commented: "Such an amazing human being you are!"
Meanwhile, Cyrus' beau has also expressed his support for animal welfare in a subtle way. Hemsworth took to Instagram to share a snap of a dog that appears to be sniffing a snail. The movie actor captioned the photo, "dog kissing snail," suggesting that there is love present even among animals of different species.
Hemsworth is also a proud animal lover like his girlfriend. In fact, the couple has rescued, adopted and welcomed more dogs into their friendly pack.
© Copyright IBTimes 2023. All rights reserved.