Miley Cyrus Flaunts Vegan Tattoo After Receiving Gift From 'Thor: Ragnarok' Actor Chris Hemsworth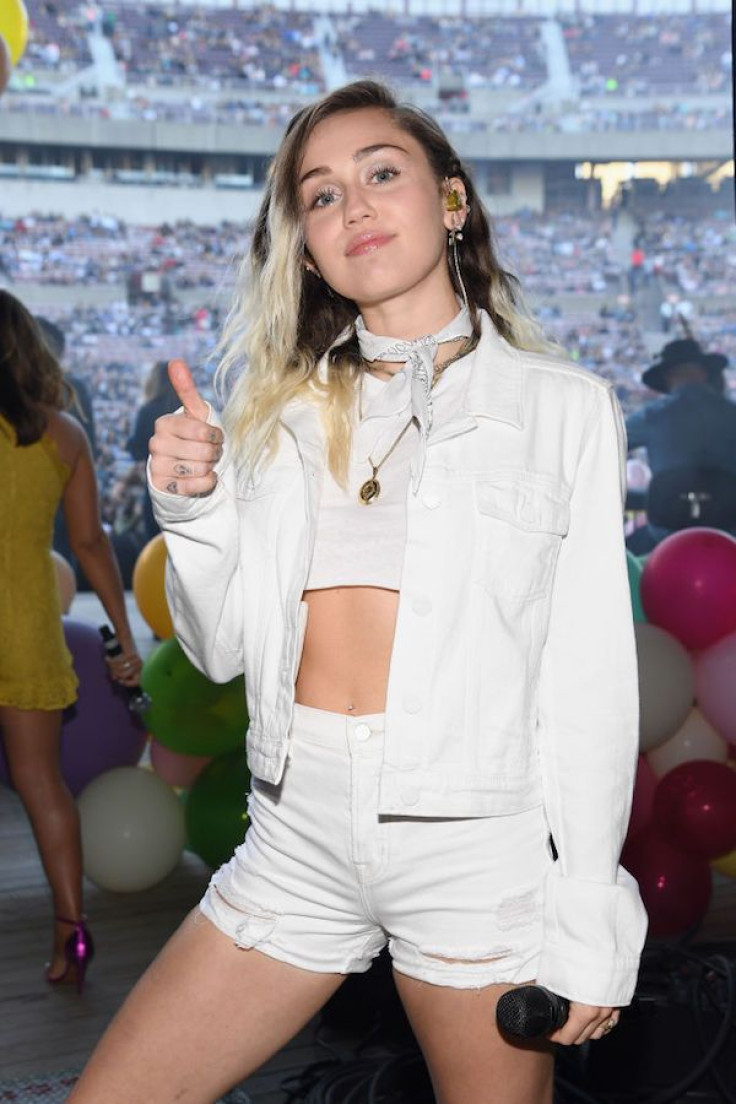 Miley Cyrus is very proud of her vegan lifestyle, so she decided to get a tattoo as tribute. The actress-singer also showed off on Instagram the present she recently got from "Thor: Ragnarok" actor and future brother-in-law Chris Hemsworth.
On Sunday, Cyrus updated her Instagram with a couple of photos of her showing off her latest addition to her body art gallery. Apparently, the "Malibu" hitmaker has gotten an ink that signifies her vegan lifestyle. In her first post, she shared a side-by-side snap of a vegan logo and the ink she recently had done on her upper inner left arm. Cyrus captioned it, "Vegan for life!" along with a green heart emoji.
Reiterating her announcement to her fans, Cyrus uploaded a follow-up photo. This time, she is seen sporting a tougher expression while she's raising her left arm to clearly expose her new ink. She captioned this post, "bumper stickers all over dis bentley #vegan #emu #pablowtheblowfish…" to point out that her vegan tattoo is placed alongside the inks of her favorite pets, her Shetland Sheepdog Emu and her late blowfish Pablo.
READ: Miley Cyrus recalls first kiss with Liam Hemsworth
Cyrus became vegan back in 2014. When she reunited with beau Liam Hemsworth, she also influenced the latter to embrace the lifestyle in 2016. Thus, the couple no longer consumes food made from animals or even use products that make use of animals, as pointed out by Daily Mail.
Speaking to News.com.au last year, the "Hunger Games" actor revealed why he switched to being vegan like his girlfriend. "Ethically, I didn't feel good about supporting those industries," he said. "It's not good for the environment, it's not good for people and certainly not for animals."
Meanwhile, although Hemsworth and Cyrus' wedding has been put on the backburner for the time being, they remain to be pretty close with each other's families. In fact, Cyrus recently got a present from her beau's older brother and Hollywood hunk Chris.
On Saturday, Cyrus took to her Instagram to share a clip of her donning pink sunglasses while inside the car. She revealed in her caption that the eyewear was gifted to her by Chris. She also indicated in her post that she'll make sure to use the present well and not let it sit at the bottom of some random drawer.
© Copyright IBTimes 2023. All rights reserved.