Miley Cyrus Hair Gets A Shocking New Makeover, Did She Pull a 'Britney'? [PHOTO]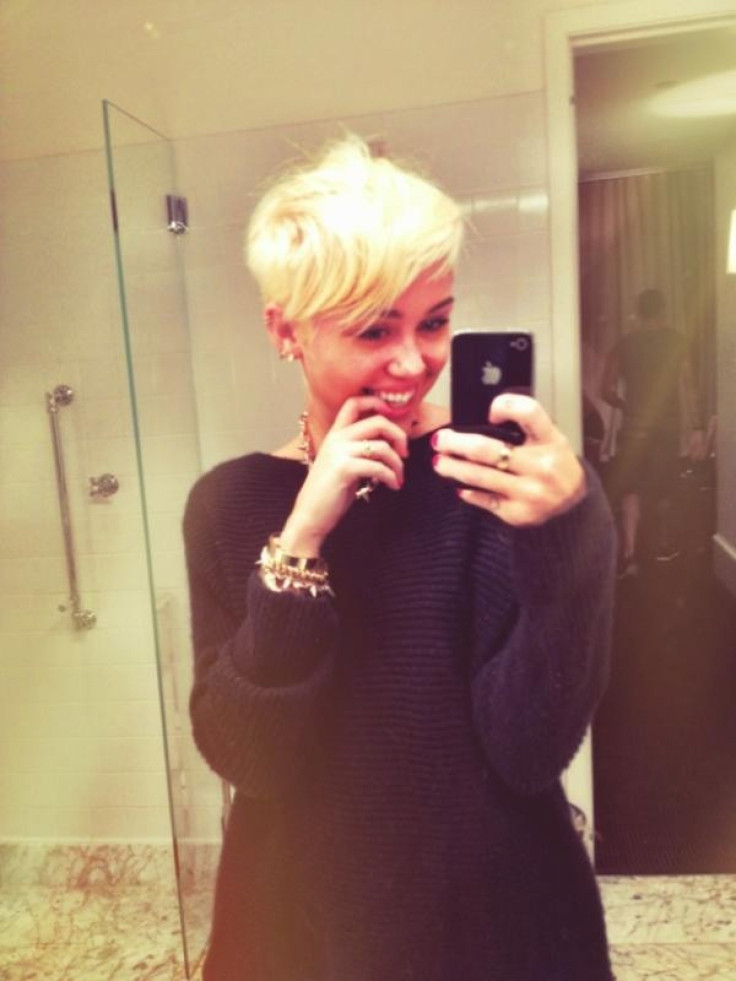 Miley Cyrus is shocking fans again with her most recent Twitter photos -- but it's not what you think. The 19-year-old pop-star and actress, recently startled fans when she announced her engagement to beau Liam Hemsworth. But this time, it's her hair that's causing the controversy. The "Hannah Montana" star took to Twitter last night to debut the first photos of her new hairdo, a much more adult, platinum blonde pixie cut, but she may have gotten more of a reaction than she bargained for.
Cyrus seemed to win over fans last month when she cut her hair and swapped her auburn locks for platinum blonde. A novelty Twitter account called "Miley's Bun" (with 22,823 current followers) even sprang up in honor of the new hairstyle. But she now seems to be facing the wrath of the Twitterverse from users who hate her new look.
Cyrus first hinted to fans that something was coming last night when she cryptically posted a countdown on her Twitter account, causing rampant speculation that she might be announcing her next single or releasing new tracks. She finally tipped them off when she sent out a photo of hair stylist Chris McMillan's scissors looming perilously close to her bun. She then tweeted, "It's happening."
No sooner than Cyrus had announced her decision to cut off her famous locks, than fans began loudly protesting with fervent pleas like, "don't cut the bun omg," "OMG MILEY NOOOOOOOOOOOOOO," and "FOR THE LOVE OF JESUS NO."
But Cyrus would not be deterred. The singer stuck to her guns and admonished the haters, saying, "If you don't have something nice to say don't say anything at all. My hair is attached to my head no one else's and it's going bye bye :)"
When the deed had been done, she gleefully unveiled the new look on Twitter, and wrote, "Never felt more me in my whole life ?."
Not surprisingly, Cyrus's subsequent photos of her new, Robyn-esque 'do caused quite a stir, with fans of her old and new hairstyle weighing in on the look. Many of Cyrus's defenders have been taking her naysayers to task, alleging that the songstress had donated her hair to cancer patients, though Cyrus has not herself said so.
While some opponents of her new hair are speculating that it was a spur-of-the-moment decision, Cyrus has actually spoken of her desire to have short hair before. In an interview with ABC several years ago, Cyrus promised that she would eventually ditch her long tresses, saying, "One day I'm going to cut my hair like [Twiggy], I know I am."
© Copyright IBTimes 2023. All rights reserved.