Miley Cyrus Sends Strong Message While Paying Tribute To Pulse Nightclub Shooting Victims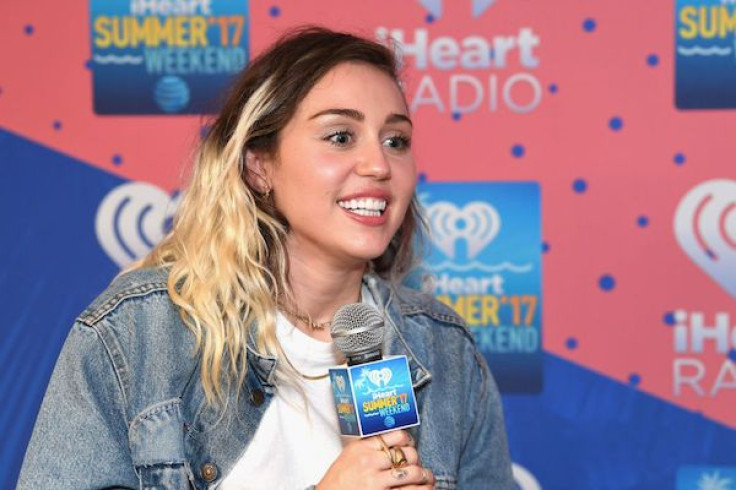 Miley Cyrus wrote a powerful message on social media asking everyone to love more in honor of the victims of the shooting that took place in Orlando a year ago. The mastermind behind the Happy Hippie Foundation also encouraged all the people in the world to treat animals as equals and care more for planet Earth.
On Monday, the "Malibu" hitmaker paid tribute to the people who perished in the Pulse nightclub shooting on June 12, 2016. First, Cyrus posted an infographic that lists the names of the 49 victims of the hate crime. The singer did not caption the post and instead used a string of colorful hearts to express her desire to spread love to the LGBTQ community.
In a follow-up, Cyrus shared a photo of herself holding the microphone while performing onstage at Hot 99.5's 2017 Pride Concert on Sunday. In this post, Liam Hemsworth's fiancée poured her heart out and asked for unity and equality for all. "Today we remember all those souls we lost at Pulse in Orlando…..they were taken because of hate…discriminations ….the divide…. Let's erase all of this and draw a big heart in the sand instead," she wrote.
READ: Billy Ray Cyrus comments on daughter Miley and Liam Hemsworth's romance
Cyrus continued her inspiring message by saying that humans, animals, trees and everything else are the same, and all of us need respect. "Treat strangers like life long friends! Treat the earth like it's the only we have (because it is) !!!!! Treat animals like they have feelings (because they do)," Cyrus added before encouraging everyone to love more.
In a separate post, Cyrus stated that we should all be proud of our brave LGBTQ friends. She also noted in the same post that everyone should get involved in fighting for justice.
Many of Cyrus' fans quickly agreed with the former Disney star and left her positive messages. "Couldn't agree more babe!!!! So grateful for your voice in this world," one wrote. "Thank you for sharing your awakened enlightenment and spreading your blissful love through the universe. Your words resonate deep within my soul," another commented.
READ: Miley Cyrus gets emotional while performing in front of Billboard crowd
Meanwhile, Cyrus has recently teamed up with Converse to promote the brand's Pride Collection, which comprises of 22 rainbow sneakers that are all in the famous Chuck Taylors All-Star model. The collaboration is for a good cause since all proceeds will be handed to Cyrus' Happy Hippie Foundation and the It Gets Better Project, according to Billboard.
© Copyright IBTimes 2023. All rights reserved.