Military Base Violence: Fort Hood Female Soldier Hospitalized After Attack At Off-Base Party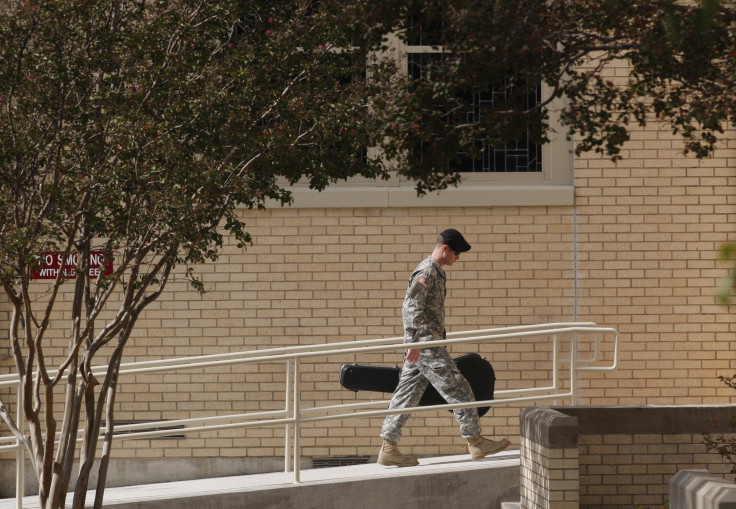 A female soldier stationed at a Texas military installment was brutally attacked during an off-post party, landing her in the hospital over the weekend, local news outlet KWTX reported Wednesday. Jacob Andrew Avila, who is also a soldier, turned himself in and faces assault charges in connection to the attack near Fort Hood, which occurred at Aliva's home, according to an arrest warrant affidavit.
Melissa J. Centeno told officers she was at the party when Avila and a second man saw her "making out" with another soldier. A short time later, as she was walking out of a bathroom, the other man allegedly grabbed her neck and shoved her against a wall, slapping her, the affidavit said.
"Melissa advised that while Lucas had his hand around her neck, he was squeezing tight enough that she was unable to breath and lost consciousness," the affidavit said. She felt as though she were "about to die," she told an officer.
Another soldier intervened, but not before Centeno said she suffered a mild concussion, a ruptured eardrum and abrasions on her neck and face. Avila confirmed parts of the story, including that he slapped her and that the other soldier punched and choked her. A military spokesman did offer immediate comment, KWTX reported.
The case comes as the U.S. Army opened all positions to women, including previously restricted infantry, armor and Special Forces jobs. Women in the Army already serve in a number of dangerous positions, including in artillery units.
"We're not going to turn our back on 50 percent of the population," said Acting Secretary of the Army Patrick J. Murphy. "We are opening up every occupation to women. I think that's pretty historic."
The U.S. Army last month initiated a new smart phone application for reporting crimes on military bases called "iWatch Army," Reuters reported. As of last month, it was being used at 17 bases, aimed at supporting anti-terrorism and anti-crime efforts. Another 100 bases were expected to begin using the app as well, the developer said.
© Copyright IBTimes 2023. All rights reserved.