Mired in scandal, tycoon presses bid to run Hong Kong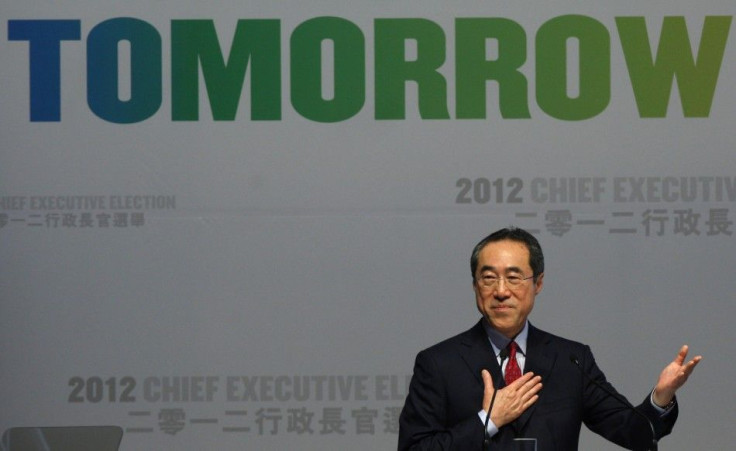 Tycoon Henry Tang threw his hat into the ring to become Hong Kong's next leader on Monday, defying growing calls to quit amid a scandal over an illegally built luxury den under a swimming pool.
Tang, formerly Hong Kong's number two official who only last week had appeared the China-backed frontrunner in next month's election, has seen his popularity tumble over allegations of an extra-marital affair, verbal gaffes and now the row over the basement in the grounds of a family villa.
What riled the public more than the building of the basement, which newspapers reported as having a wine cellar, home theatre, gymnasium and a jacuzzi, was that Tang blamed the construction on his wife.
Despite calls for him to quit, Tang formally submitted his nomination to replace outgoing Chief Executive Donald Tsang on Monday after securing just 379 nominations from a 1,200-strong election committee.
Michael DeGolyer, political scientist at Hong Kong Baptist University, said 379 was an embarrassingly small number, given that Tang was the more or less undoubted frontrunner until last Thursday.
As data starts coming out about how Henry Tang is falling off the charts in terms of public support, and if (Beijing) were to even try to impose Henry Tang ... (when) you have a majority of the public in favour of someone like C.Y. Leung, it would make Hong Kong ungovernable, he said.
It is simply not going to work. And I think that that's going to be blisteringly apparent rather soon.
C.Y. Leung, or Leung Chun-ying, a government adviser and surveyor, is known to have some support in Beijing and is Tang's nearest contender.
Hong Kong's former security chief-turned-politician, Regina Ip, also said she would run in the race to replace Tsang, knighted by the Queen of England and a trusted aide to Hong Kong's last British governor, Chris Patten.
With China facing a critical leadership transition later in the year, the Tang scandal will be unwelcome in the small but influential city whose moves towards full democracy have antagonized China's Communist leaders since 1997 when it returned from British to Chinese rule.
Hong Kong's seven million people have no direct vote for their next leader despite promises by Beijing eventually to grant the city full democracy.
A poll by the University of Hong Kong showed on Sunday that 51.3 percent of 516 people surveyed wanted Tang out of the race while 79.5 percent thought his integrity was questionable.
© Copyright Thomson Reuters 2023. All rights reserved.