Miss USA 2011: Host Giuliana Rancic once a beauty pageant contestant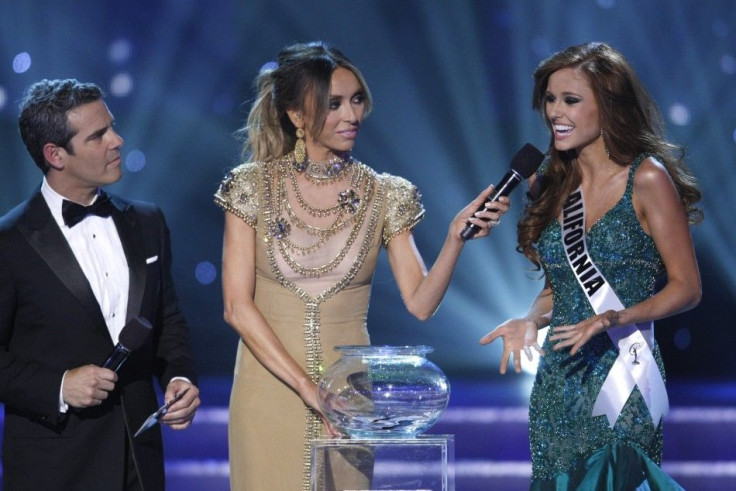 Miss USA 2011 host, Giuliana Rancic, is no stranger to beauty pageants. OK! Magazine spoke with the host at the event on Saturday in Las Vegas, and she revealed that she once vied for the Miss Maryland pageant.
I actually was in the Miss Maryland USA pageant twice at 18 and 10, and had I won, I would be going to the Miss USA pageant, Rancic said to OK Magazine at the Planet Hollywood Resort and Casino in Las Vegas. But I totally bombed twice. One time, I was not feeling confident at all, and the next year, I actually made it to the semifinals, and my interview question, I went around in circles and gave the worst answer ever. I completely tanked the interview.
Rancic went on to reveal some details of the question that she believed ruined her chances to be crowned Miss Maryland.
It was something about 'what would you do with the title of Miss Maryland?' and I said, 'well, I want the title because it will give me - oh wow - it will give me the um' - what I was trying to say is that it would give me access to different organizations and opportunities, and instead, I said 'the key to' and then went 'the city.' It made no sense. You don't get the key to the city. It was hilarious, and then I started going in circles. I looked down at the audience, and I saw my family looking at me like 'what?' it was awful, so I bombed.
The E! News host gave more details of the competition she participated in and how it did not go as well as she hoped for.
I remember everyone came out - the girls were super sexy, and they came out in their bikinis, and I wore a black one-piece - like a granny bathing suit, and everyone was laughing at me. I was insecure as a kid. I had scoliosis bad, I had a bad curve, and I was embarrassed. It was hard. It had something that, as a young girl, I wanted to build my confidence. I didn't like the way I looked - I was always teased in school. It was a challenge for me to try it. Even though I didn't win, it was an awesome experience. I t was a real confidence booster. Even if you don't win, you're still so happy afterwards. You're thrilled to have done it.
Despite her career in pageants did not go as well as she had hoped, she said she was happy to be part of it now as a host. She called being on the stage of the Miss USA pageant a dream come true.
As a little girl, I always dreamed of going to Miss USA, and I think it's cool. It's a testament to the fact that dreams come true in one way or the other. My motto is, 'if I can't compete in it, host it,' so I love that I did visualize it, it was a dream of mine always, and I finally made it - I took a different route than most of these girls. It's pretty cool to be on the stage nonetheless, Rancic said.
Having competed in a beauty pageant in the past allows Rancic to serve as a good mentor and coach for the girls competing for the title of Miss USA 2011.
I totally empathize with them, because I've been in their shoes before, she said. I'm giving them all this advice today. They were in a huddle around me today. I felt like a coach, and I was giving them advice, telling them to be real and authentic. I love this type of thing - it's totally up my alley.
At the end of the night, it was Miss California, 21-year-old Alyssa Campanella, who was crowned Miss USA 2011.
FOLLOW MORE IBT NEWS ON THE BELOW CHANNELS