'Mission Impossible - Ghost Protocol' Tom Cruise Jumps From World's Tallest Building (PHOTOS)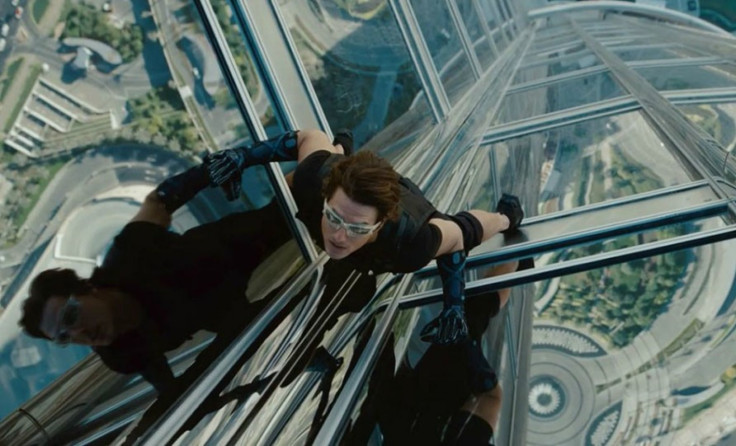 'Mission Impossible' star Tom Cruise will be back with the 4th installment of the blockbuster movie. titled 'Mission Impossible - Ghost Protocol.' In this movie, Cruise will be seen in a new dimension of action - he will be scaling the world's tallest building - Burj Khalifa Tower - and hold your breath, he'll be leaping off the building too.
New high-resolution photos of Ghost Protocol unveils the fearless passion of Tom Cuise who will be seen scaling as well as leaping down from the 828m building. Yes, Cruise is all set become the No.1 action hero.
Depending only on a fire hose and equipped with suction gloves and goggles, Cruise shows off what it takes to be a hero in 'Mission Impossible'.
But what is the story all about? Blamed for the terrorist bombing of the Kremkin, IMF operative Ethan Hunt (Tom Cruise) is disavowed along with rest of the agency and the President initiates Ghost Protocol. Left without any resources or backup, Ethan must find a way to clear his agency's name and prevent another attack. But there's more complication and danger in store for him.
Directed by Brad Birds and produced by Tom Cruise and J.J. Abrams, Mission Impossible – Ghost Protocol invites fans to rappel down the world's tallest building with the Hollywood star on Dec. 21.
Check out the sneak peek of the movie and behind the scene photos!
© Copyright IBTimes 2023. All rights reserved.