'Mission: Impossible – Rogue Nation' Shows An Unstoppable Tom Cruise Square Off Against Sizzling New Co-Star Rebecca Ferguson [REVIEW]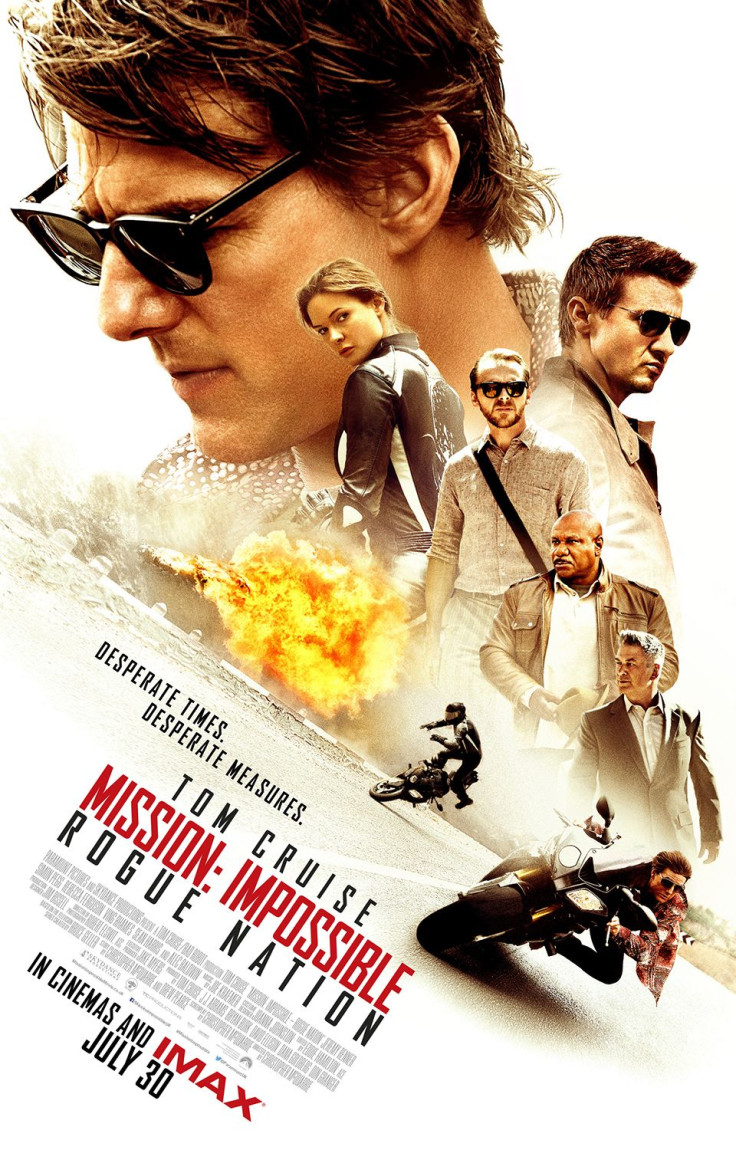 Tom Cruise is nowhere to be seen in the first few minutes of "Mission: Impossible – Rogue Nation." Eyes are everywhere – William (Jeremy Runner) is watching nervously from above in his stateside headquarters, Benji (Simon Pegg) is looking up while hidden in underbrush and Luther (Ving Rhames) listens to the action half-way across the world. But Cruise's dashing superspy character Ethan Hunt is only seen when he wants to be and in the case of the fifth movie in the "Mission: Impossible" series, this means his entrance is a harried sprint to hang onto the side of a military plane in a last ditch attempt to stop the next round of bad guys.
It's all in a day's work for Hunt, but it's also a job that could be drying up thanks to a meddling CIA official (Alec Baldwin) who fails to see the value in the covert operations. But that's only the briefest of worries when a power-hungry organization composed of rogue international spies rises to create chaos in global power structures. Now it's up to Hunt and his remaining Impossible Missions Force (IMF) team to stop the group known as the Syndicate before they destabilize more governments.
This quick-paced caper is steeped in the light of neo-noir bath minus the cigarette smoke. Hunt is a stoic figure who lets the people around him do the worrying. Cruise easily channels Robert Mitchum's collected composure, preferring instead to be the quiet man with all the answers. Of course, this being Tom Cruise, the action star has continued to win back audiences with his daredevil sensibilities that has only evolved over the years in a role he first took in 1996.
But where would a film noir be without a mysterious femme fatale to drop in and wreak havoc on our male hero? Hunt's female foil Ilsa Faust (Rebecca Ferguson) is every bit his equal, but her past is yet another puzzle to be solved by Hunt. Ferguson nearly steals Cruise's thunder in every scene. She's sophisticated and capable, yet her character's motives seem to change with every frame to keep the audience guessing. Faust carries an air of Lauren Bacall, making her Hunt's cool-under-pressure equal. By "Rogue Nation," we know Hunt is not going to let go of a woman so much like him.
And the series knows its legacy enough to up the ante on stunts and plot twists. Frequent latter-day Cruise collaborator Christopher McQuarrie ("Edge of Tomorrow," "Jack Reacher") keeps predecessor Brad Bird's sense of humor in the series, adding a different dimension to a character audiences have been watching for close to 20 years. McQuarrie leaves his mark on the series that has boasted directors like Bird, Brian De Palma and John Woo by giving "Rogue Nation" this old school thrill.
Perhaps the building of the "Mission: Impossible" movies begin with the stunt sequences, as they serve as anchors for the plot to tie onto. The airplane scene may have played out on posters and trailers well before the film's release, but it manages a breathtaking hold on the viewer in the first few minutes of "Rogue Nation." We're never meant to quite catch our breath after that lift-off.
With another "Mission: Impossible" sequel already in the works (via Vulture), fans can continue to expect more jaw-dropping stunts and inconceivable scenarios in which our American James Bond will find himself in. How much longer can Cruise keep up the series' promise of the impossible remains to be seen. For now, audiences will have the pleasure of being swept away by the actor's unbridled charm sparring with Ferguson's upstart attitude in a flawless duet of deceit and determination. All is fair in love and espionage.
"Mission: Impossible – Rogue Nation" opens in theaters Friday.
© Copyright IBTimes 2023. All rights reserved.