Mitt Romney Namedrops Marco Rubio On Piers Morgan, Fueling Veep Speculation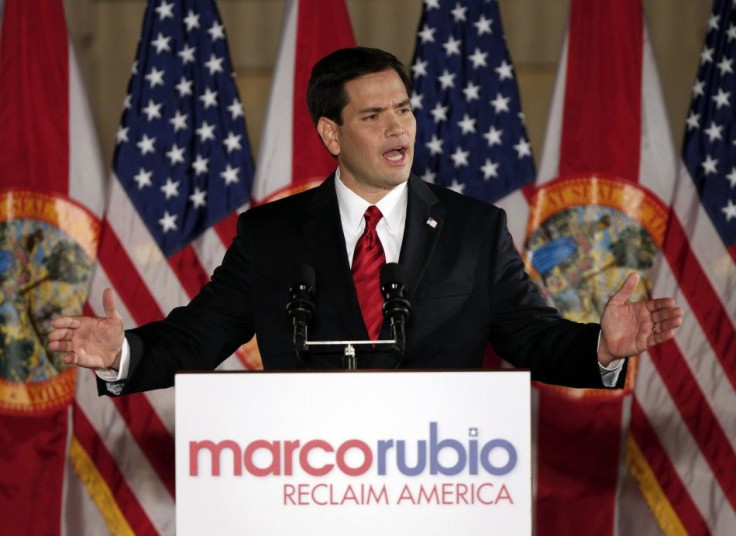 Mitt Romney randomly mentioned Sen. Marco Rubio during a Piers Morgan interview, reigniting speculation that the Florida Republican will be the former Massachusetts governor's running mate. (Check out the video below.)
In an advance clip posted on CNN from an interview airing Thursday night, Romney mentioned Rubio while discussing folks who "attack success." The pushbacks against supposed attacks on achievement has been Romney's answer to President Barack Obama and his surrogates' attempts at labeling him as "out of touch" with middle-class America.
In addressing the attacks, Romney, with wife Ann in tow, said, "I heard Marco Rubio the other day. He said, you know, we were poor living in Miami. We saw these homes across town. My parents never said to us, 'Gee, why don't those people gives us some of what they have?'
"They said, instead, 'Aren't we lucky to live in a country where with education and hard work we might be able to achieve that ourselves?'"
Speculation around Romney's veep pick is heating up with the Republican National Covention in Tampa, Fla., just over a month away, when the presumptive nominee will be take up the party's standard.
The list of potential running mates has been long, and remained so thanks to Romney's coy flirtation with numerous potential No. 2's. Rubio aside, New Jersey Gov. Chris Christie, Louisiana Gov. Bobby Jindal and former Minnesota Gov. Tim Pawlenty are among those believed to be in the final running.
But it is Rubio who has enjoyed the most backing from Republicans outside the campaign, with former Florida Gov. Jeb Bush being the most recent GOP heavyweight to be added to the list.
© Copyright IBTimes 2022. All rights reserved.
FOLLOW MORE IBT NEWS ON THE BELOW CHANNELS