MLB Rumors: Dodgers, Giants, Cardinals Still In Line For Zack Greinke?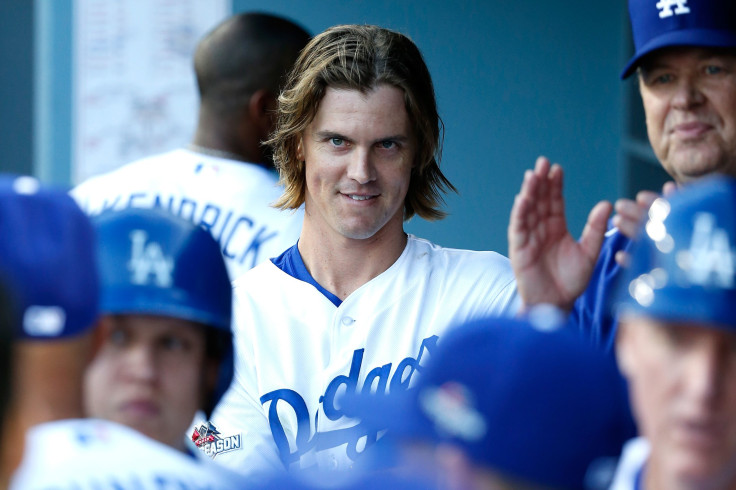 One of the top two MLB free agents has found a home for next season, and both players could be off the market sooner rather than later. Shortly after David Price agreed to sign with the Boston Red Sox, Zack Greinke is expected to make a decision regarding his MLB future.
Coming off a season in which he led the majors in ERA, Greinke could sign a record-setting deal. Price's contract is worth $217 million over seven years, and his $31 million average annual salary is the most ever for a pitcher. But that mark could be surpassed when Greinke finally decides where he'll be playing in 2016.
According to multiple reports, it's a two-team race for Greinke's services. The Los Angeles Dodgers are looking to keep Greinke, who posted a 2.30 ERA from 2013-2015 with L.A. But the Dodgers have serious competition from their chief rivals as the San Francisco Giants make a play for the runner-up for this year's NL Cy Young award.
The Dodgers have been viewed as the frontrunners to sign Greinke all along, and it's believed by many that he wouldn't turn down a six-year, $192 million contract, if that's indeed what Los Angeles offers him.
"He is our priority — our No. 1 priority in the off-season," Magic Johnson, part-owner of the Dodgers, said via the Los Angeles Times. "We are going to put in our bid, just like I'm sure other teams will. He's our priority. We like that 1-2 punch that we have with him and Clayton [Kershaw]."
Greinke could head to San Francisco if the Giants offer him more money or an extra year. The Dodgers already had the highest payroll in baseball for the 2015 season at $298.3 million, forcing them to pay a record $43.7 million in luxury tax penalties.
The Red Sox were major players for Greinke before they signed Price. The St. Louis Cardinals aren't considered to be among the favorites to land Greinke, but they came close to signing Price, according to Bob Nightengale of USA Today. The team reportedly offered Price a contract worth $30 million less than what he eventually received from Boston.
Greinke turned 32 years old in October, posting a 19-3 record with a 1.66 ERA and a .084 WHIP in the regular season. Only two starting pitchers have posted a better single-season ERA than Greinke since 1969.
Los Angeles had reportedly been interested in signing Jordan Zimmerman, but the starting pitcher was the first big name player to sign a deal this offseason. He agreed to a contract with the Detroit Tigers.
© Copyright IBTimes 2023. All rights reserved.