'Modern Family' Star Sarah Hyland Shares Sweet Photo With Boyfriend Dom Sherwood Via Instagram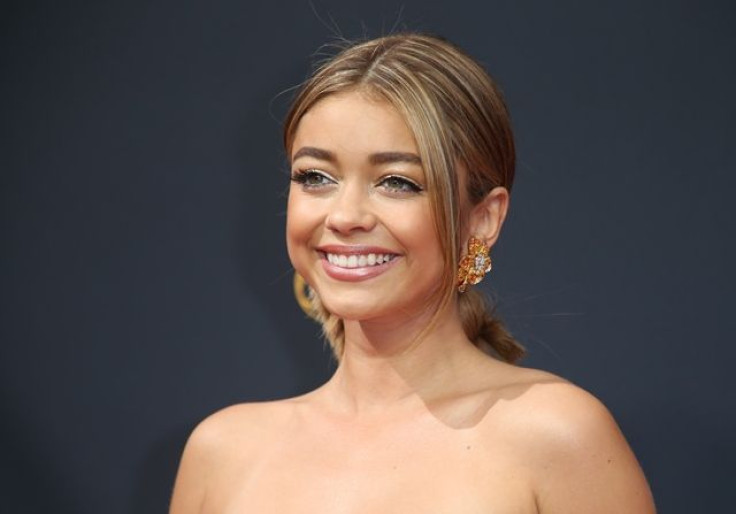 "Modern Family" star Sarah Hyland is one sweet girlfriend to Dom Sherwood!
On her Instagram account, the 26-year-old actress expressed her love and admiration for Sherwood, calling the actor "phenomenal" and "amazing" in the new photo she posted on the social media site. In the pic, the couple dons matching dark blue clothing for the 2017 Golden Globes.
Hyland also posted a short video of the two of them kissing inside an elevator. I the short clip, Hyland and Sherwood move away from each other when the door opens, but just before it closes, the two start kissing again.
Hyland and Sherwood have been together since February 2015, a few months after she split from Matthew Prokop. The "Vampire Academy" co-stars even got matching tattoos just less than a month after they started dating, according to Entertainment Tonight. She shared a photo of her arrow tattoo on her Instagram account. A photo of Sherwood's bigger arrow tattoo on his shoulder was posted on the actor's Twitter account.
Hyland previously revealed that she had been in an abusive relationship with Prokop. In an interview with Glamour in October 2014, Hyland said that she had to go through a difficult period with Prokop to become the person that she is today.
Hyland also filed for a restraining order against Prokop, alleging that her ex choked her with his own hands after they had an argument about her outfit. "Matt relentlessly bombarded me with vile, threatening and emotionally disturbing texts and voice mails including his own suicide threats," she said.
Hyland's request for a restraining order was granted by the court for a period of three years. Prokop is prohibited from getting within 100 yards of Hyland, the actress' home, workplace and even her dogs. Prokop is also banned from owning a gun.
© Copyright IBTimes 2023. All rights reserved.