'Monster' Wildfires Devour Texas: 500 Homes Destroyed in Bastrop [Photos]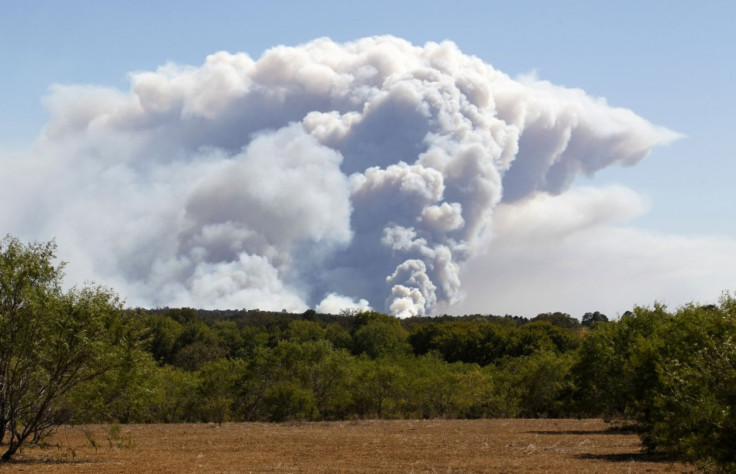 Firefighters tried to contain a raging wildfire that engulfed thousands of acres of drought-stricken areas of Texas Monday.
The wildfire devoured hundreds of homes and has killed a mother and her child. At least 476 homes were destroyed in a massive Bastrop County fire that raged into the second day after erupting on Sunday, said state officials on Monday.
The Bastrop fire is one of more than sixty fires that have erupted in drought-ridden Texas from Possum Kingdom Lake in Palo Pinto County to a swath of Central Texas not far from the state's capital city of Austin, reports the Fort Worth Star-Telegram.
At least 5,000 people were evacuated from their homes in Bastrop County about 25 miles east of Austin, and about 400 were in emergency shelters, officials said.
I'm still seeing no containment, said April Saginor, public information officer for the Texas Forest Service, who confirmed that the Bastrop County Complex Fire has scorched more than 25,000 acres, reports Reuters. 250 firefighters were struggling to control the Bastrop fire that stretches for 16 miles with a breadth of six miles in some spots.
Wildfires burning across Texas were fueled by drought conditions and strong winds generated by Tropical Storm Lee.
While Bastrop County was the scene of the biggest fire, the roaring flames devastated 25 homes in the Steiner Ranch subdivision of Travis County and forced the evacuation of more than 1,000 homes.
Mandatory evacuation orders have been issued for various parts of Bastrop and also Travis County, where Austin is located. About 20 homes were destroyed in a fire that spread across 7,000 acres southeast of Spicewood, another Travis County community, said officials.
Firefighters are working around the clock, and heavy air tankers, which have been brought in from as far away as South Dakota, have been dumping water on the fires. According to Bastrop County Judge Ronnie McDonald, bulldozers and pumper trucks also were deployed against the fire.
Jan Amen of the Texas Forest Service described the central Texas blaze as a monster, and Gov. Rick Perry cut short a presidential campaign trip to South Carolina and returned to Texas.
I urge Texans to take extreme caution as we continue to see the devastating effects of sweeping wildfires impacting both rural and urban areas of the state, he said.
Perry said that the recent fires across Texas, which have burned 3.5 million acres, are roughly the size of Connecticut.
Perry told the people to obey evacuation orders and not to stay in their homes if they had lost power.
I understand that losing your home or lifetime possessions is incredibly difficult, but do not put your life in jeopardy, Perry said.
© Copyright IBTimes 2022. All rights reserved.
FOLLOW MORE IBT NEWS ON THE BELOW CHANNELS