'Montage Of Heck': 6 Music Moments, Unreleased Tracks And Live Performances Featured In The HBO Kurt Cobain Documentary [VIDEO PLAYLIST]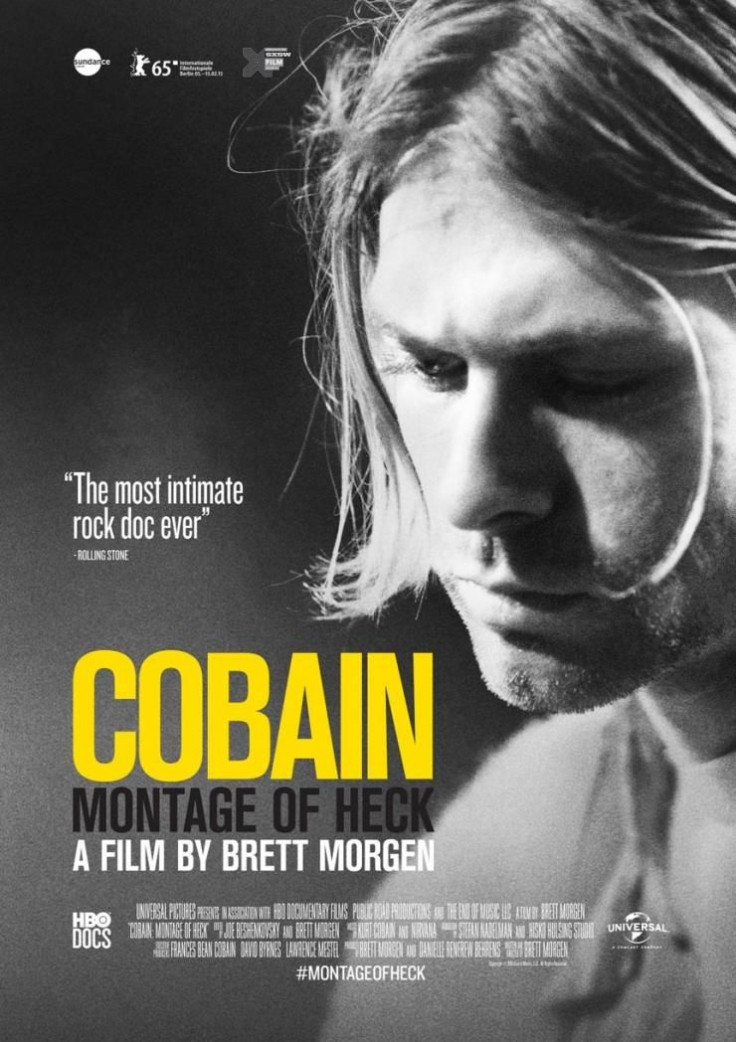 "Kurt Cobain: Montage of Heck" will finally make its nationwide debut on HBO Monday. Though many lucky "Nirvana" fans have already caught the new documentary about the controversial front man during its limited theatrical run, for most of the public the HBO premiere will be their first chance to see the highly anticipated film. HBO will be hoping their wave of success with documentaries, such as the Scientology expose "Going Clear" and the Frank Sinatra biography film "Sinatra: All or Nothing at All," will continue when "Montage of Heck" airs Monday night at 9 p.m. EDT.
With a documentary about one of the biggest rock stars of the past few decades, fans can expect a few jaw dropping music moments. The soundtrack for the film includes lesser known versions of some of Nirvana's most popular hits, as well as a few previously unreleased tracks.
Here are 6 of the most memorable songs and music moments included in "Kurt Cobain: Montage of Heck":
"Smells Like Teen Spirit"
Everybody knows "Smells Like Teen Spirit." Rock fans still cannot turn on the radio without hearing Nirvana's breakthrough hit. In "Montage of Heck," director Brett Morgen uses some interesting covers of the song to give aficionados a fresh taste of the oft-played song.
When showing footage of Nirvana recording the iconic music video for the song, Morgen employs Scala & Kolacny Brothers haunting choir rendition instead of playing Nirvana's recording. The version serves as a chilling backdrop to the film's discussion of the toll fame was starting to take on Cobain.
Earlier in the film, an experimental animated sequence that brings to life an audio journal recording of Cobain talking about his childhood is set to an orchestral arrangement of "Smells Like Teen Spirit."
Watch Scala & Kolacny Brothers performing "Smells Like Teen Spirit" below:
"All Apologies"
One of the more moving sections of the movie reveals never-before-seen home movies of Cobain as a child, courtesy of Cobain's mother, who gave Morgen access to the tapes for the film. The footage of the future rock legend playing with toys in diapers is set to a lullaby-sounding cover of Nirvana's "All Apologies" performed by Rockabye Baby!
Hear the track below:
"Breed"
"Montage of Heck" explores Cobain's anxiety about what he perceived as an inaccurate narrative in the media about his and wife Courtney Love's heroin use. At the beginning of Nirvana's set at the 1992 Reading Festival – what ended up being the band's last U.K. show – Cobain was pushed on stage in a wheelchair wearing a hospital gown and a wig to mock his media portrayal. He eventually rose from the wheelchair to open the band's performance with a frenetic version of "Breed" to roaring applause.
Watch the performance from the 1992 Reading Festival below:
"Where Did You Sleep Last Night?"
One of Nirvana's last performances before Cobain's suicide in 1994 was the taping of their MTV "Unplugged" special. The band ended their set with a cover of Lead Belly's "Where Did You Sleep Last Night?" The already dark song was made more potent by the funeral-like set design – candles and lilies covered the purple colored stage – insisted on by Cobain. In retrospect, the performance feels like a powerfully eerie precursor to Cobain's death just a few months later, made all the more chilling by Courtney Love's confession in the film that Cobain had previously attempted suicide in a fit of jealousy after sensing she was considering cheating.
Watch Nirvana performing "Where Did You Sleep Last Night" below:
Unreleased Track
Morgen gained access to a few unreleased recordings by Cobain that made their way into the film. A clip of one of the untitled songs, along with a clip from another animated sequence in the movie, has been released to preview the HBO premiere.
Listen to the clip of a previously unreleased song featured in "Montage of Heck" below:
A Musical Family
With access to home videos from Courtney Love and daughter Frances Bean Cobain, Morgen was able to give fans a glimpse into the private home life of Cobain, Love and their daughter shortly after Frances' birth. Some of the most compelling musical moments in the film are Cobain and Love singing to each other and their baby about their lives, adlibbing lyrics off the tops of their heads or doing an impression of Bob Dylan.
What is your favorite music moment from "Montage of Heck?" Tweet your thoughts to @Ja9GarofaloTV.
© Copyright IBTimes 2023. All rights reserved.