'Mortal Kombat 11' Rain Gameplay Trailer Highlights Destructive Capabilities Of Water
KEY POINTS
Purple-clad water-fighting ninja Rain gets his own gameplay trailer for "Mortal Kombat 11"
Initially a joke and tribute to Prince, Rain has since become a vicious fighter
Joining Rain in "Mortal Kombat 11's" Kombat Pack 2 is Mileena and Rambo
"Mortal Kombat 11" will add Rain to its roster on Nov. 17 via Kombat Pack 2. NetherRealm Studios released a gameplay trailer Thursday centered on Rain.
As a new addition to "Mortal Kombat 11," it might be surprising for some to see a dedicated trailer to a character like Rain. However, for someone who first appeared in 1995's "Ultimate Mortal Kombat 3" and has a unique backstory, perhaps it is not quite as shocking as one might think.
The dedicated gameplay trailer showcases Rain's water-based fighting style as he battles Kotal Kahn, Shao Kahn and Sindel. Martial artist Bruce Lee once said to "be like water" when fighting, but it is unlikely that Rain's exploits are what he had in mind.
From casting thunderclouds over enemies to drowning them in tidal waves to being as fluid as water to avoid attacks, Rain uses these deftly to inflict punishment on his opponents. He does not hesitate to use blades as well to cut straight to his enemies' insides.
"Mortal Kombat 11" series programmer Ed Boon first hinted at a new Kombat Pack last week. It was soon confirmed by NetherRealm Studios when Kombat Pack 2 revealed Mileena, John Rambo and Rain as new playable characters.
Whereas Mileena is famous in "Mortal Kombat" circles for her backstory and Rambo is known as the hero that Sylvester Stallone brought to life in films, Rain, by comparison, has an obscure background.
Created by Boon, the purple-clad Rain hails from Edenia like the ninjas Kitana and Jade. Unlike them, however, Rain serves the Outworld emperor Shao Kahn and walks a dark path.
Boon admitted in the past that Rain was inspired by the late Prince and his album "Purple Rain."
"When we were working on 'Ultimate Mortal Kombat 3,' I was thinking 'what ninja color have we not done yet?' and I'm a huge Prince fan, so I was thinking 'Purple Rain,'" he explained to the official PlayStation blog in 2011. "I was probably still listening to the album. There was no time to actually make a character because the game was done. So I hacked into the attract screen a quick little sequence of this purple ninja running at Shao Kahn."
"We didn't even have the word 'Rain' in the powerbar, so I manually built it using our font. So I included this quick glimpse just to drive people crazy," he continued. "Once 'Mortal Kombat Trilogy' came out, we gave Rain new moves and he finally became a real character."
Rain has since broken out of that purple rocker box to become a unique warrior worthy of respect in the "Mortal Kombat" games.
The masterful use of water, particularly in the brutal Fatality that is shown in the trailer, shows just how far Rain has come in terms of graphics, animation, power and story in this fighting game series. Not bad at all for someone who started as a joke and an afterthought.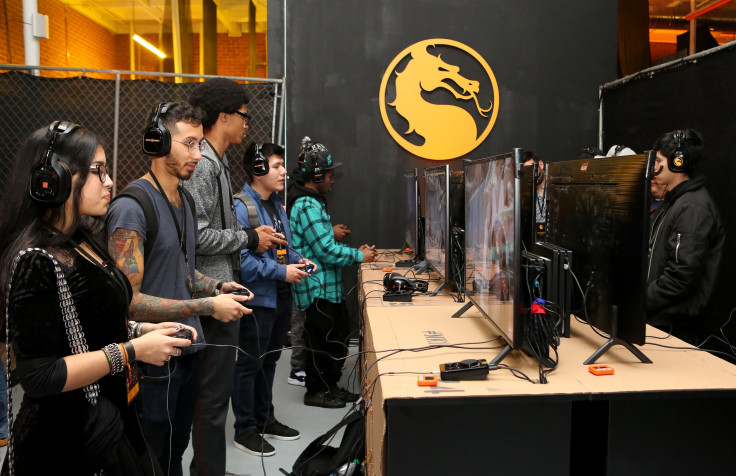 © Copyright IBTimes 2023. All rights reserved.