Move More Month: Simple Ways To Get Moving This April
KEY POINTS
April marks Move More Month every year
It encourages people to get physically active
Below are some easy tips on how people can get moving this month
It's time to get active because April is recognized as the Move More Month. Although physical activity can sometimes feel like a chore, this month may be the perfect time to add more of it to our daily routine.
Created by the American Heart Association (AHA), Move More Month is celebrated every April. The goal is to simply get people moving, National Today explained.
According to AHA, close to half of U.S. adults are actually not active enough to maintain their health, and about one in three don't even have any leisure-time physical activity. This is quite a daunting statistic, especially since physical activity is not only good for physical health, but it also helps lower the risk for certain diseases and is even good for mental health.
As such, participating in the occasion this month may encourage more people to incorporate physical activities into their daily activities. Over time, even simple activities may encourage you to do more, putting you on a healthier track.
"Let your feet take you places you never thought possible!" the organization said.
The people who are quite active may already have their preferred workouts, whether it's weight lifting, cardio, pilates or some other form of exercise. And those who are still just beginning their physical fitness journey have a wide array of activities they can choose from.
The AHA, for instance, provides guides on "living room-friendly" workouts on its Facebook and YouTube accounts. They've also provided cardio and strength exercises people can choose from to build their own circuits.
Of course, people who are quite busy or are still just beginning but would like to participate may want to look for ways to get moving even without hitting the gym. On this day, let's look at some simple ways people can "move more" this April. Courtesy -- National Today, the AHA and OSF Healthcare System.
Go on a run or a walk
Walking is an excellent exercise and it's also quite simple to do. About 10,000 steps per day are said to be the point at which people can reap health benefits from it, but those who find this number intimidating may certainly start small and then work their way up to it.
Do housework
Yes, even housework counts as movement, whether it's sweeping, mopping, gardening or vacuuming. As the AHA noted, 20 minutes of vacuuming is equivalent to walking for one mile. So you're not only keeping your home in order, but you're also keeping yourself physically active.
Stretch
Some people may think that stretching is just for the beginning and end of their workout, but it's actually also a form of exercise in itself, OSF Healthcare System said, also providing some tips on simple stretches you can add to your daily routine.
According to the AHA, 10 minutes of stretching is quite like walking the length of a football field. What's more, not only can stretching help you reap the benefits of exercise, it can also help relieve some muscle tension.
Play sports
Those who are quite sporty may participate in the Move More Month by playing a sport of their choice. As long as you're moving, you're already on your way to fitness. And since it's sports, you can even have some fun.
Do some 'lounge time' lunges
The average American spends four hours a day watching television or streaming media, according to AHA. To get yourself moving even during "lounge time," why not do some lunges instead of sitting on the couch? Perhaps you can also do some other exercises while entertaining yourself, for instance by doing some push-ups between episodes, the AHA suggested.
Have a dance party
Those looking for a rather fun way to get moving can choose to have a dance party at home. Just play your favorite music and get dancing, whether you're alone or with your family or friends. As the AHA said, an hour of dancing per week for a year is equivalent to walking from Chicago to Indianapolis.
Cook
It may sound counter-intuitive but anyone who cooks from scratch would know that cooking entails a lot of work, especially when it comes to recipes that are more meticulous than others. You can even choose to get the entire family involved, so all of you can get moving together. And at the end of it, you'll even have a non-processed meal you can enjoy, OSF Healthcare System said.
Involve The Kids
Those with young children may also encourage children to put the screens down for a while and participate in the event. This not only makes it a family affair, it may even encourage them to build their own healthy habits.
The AHA provides some tips on how to do this, for instance, one can be a part of the Move More Month by playing a game of hot lava where the goal is to keep a balloon from touching the ground or perhaps doing some frog jumps together.
Whether you choose to start a solid exercise routine or opt for simpler options, the goal for this month is to get you moving and hopefully keep you on a healthier track.
"When you Move More every day, you can reach some pretty big goals over time," the AHA said. "With motivation, dedication and great foot support, your small daily steps can add up to huge strides."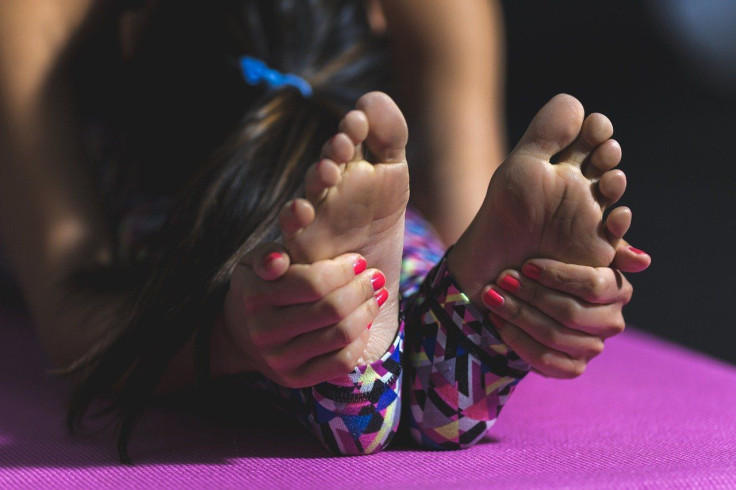 FOR FREE to continue reading
✔️ Unlock the full content of International Business Times UK for free
offer available for a limited time only
✔️ Easily manage your Newsletters subscriptions and save your favourite articles
✔️ No payment method required
Already have an account? Log in
© Copyright IBTimes 2023. All rights reserved.