Movies In Theaters This Weekend: 'Get Hard' Battles 'Home' For Top Box Office Spot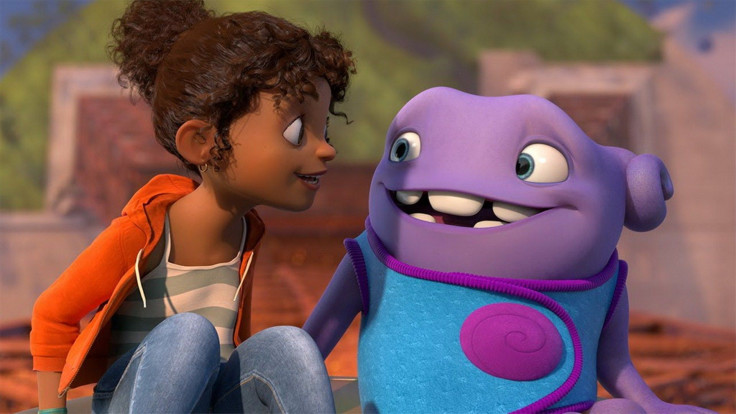 School vacations are prime real estate for big movie openings. Why else would you explain the number of big tent pole films scheduled in the summer or over Thanksgiving and winter break? Hollywood has its weekends narrowed down to almost an imperfect science -- except when two big films open against each other. The battle for the box office could come up with a victor or a draw, but half the battle remains to see which movie will hold onto its screens the longest.
According to box office predictions, the new raunchy Will Ferrell comedy, "Get Hard," and the sweet natured Rihanna animated movie, "Home," could split the ticket sales evenly for a low $30 million opening each. Optimistic outsiders think Will Ferrell could come out on top of the new family film, but pre-ordered tickets suggest "Home" might be the winner after all.
Etan Cohen's feature debut, "Get Hard," follows Will Ferrell as clueless financier James King as he's framed for fraud. Afraid of prison life, King recruits the first black man he sees to train him to survive his sentence -- wrongfully assuming that working class Darnell Lewis (Hart) has a criminal past. The odd couple paring will appeal strongly to the college crowd enjoying spring break.
Likewise, the new Dreamworks animated film could find its "Home" with families looking for something to do on break. In the movie, alien Oh (Jim Parsons) befriends an earth girl, Tip (Rhianna), as she searches for her mother (Jennifer Lopez) who was rounded up in the alien invasion. Director Tim Johnson ("Antz," "Over the Hedge") is heading the only Dreamworks release this year after last year's popular "How to Train Your Dragon 2," and ahead of 2016's "Kung Fu Panda" sequel.
Previous box office champ "Insurgent" stands to drop about 55% of its box office take from last week's $52 million opening. The "Divergent" sequel, starring Shailene Woodley and Kate Winslet, continues the story about a dystopian universe that sequesters its population by different abilities. Those that don't fall into any one faction, like Tris (Woodley), are considered dangerous for society and are hunted to be destroyed by Jeanine's (Winslet) clan. As a promotion for the film, fans in several different major cities were invited to partake in a Virtual Reality experience made especially for the release of "Insurgent."
In a rare move these days, the movie "It Follows" has staved off its Video On Demand release for an expansion from its current 32 theaters. The horror film will hit 1,200 more screens across the country this weekend. The surprise March smash about a sexually-transmitted killer ghoul opened on March 13.
What movie are you looking forward to this weekend? Sound off in the comments below!
© Copyright IBTimes 2023. All rights reserved.