'Get Hard' Movie Review: Will Ferrell And Kevin Hart Soar But Comedy Falters On Stereotypes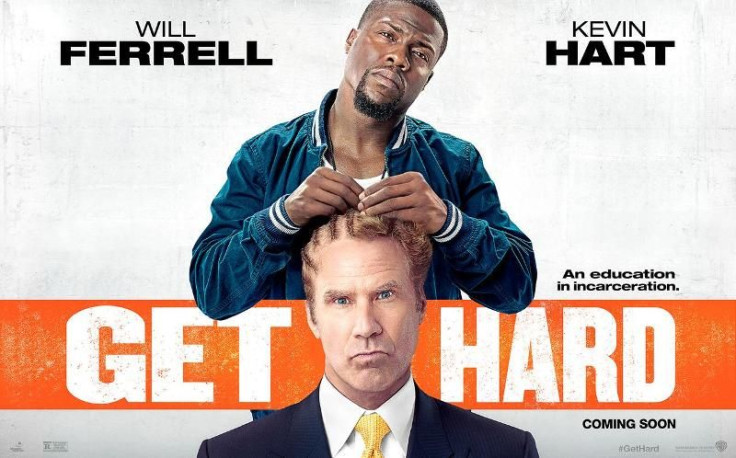 I was not excited for "Get Hard" when I first heard the premise of a white-collar criminal hiring a black man for his assumed experience with the criminal justice system. The movie poster, complete with actor Will Ferrell in cornrows, gave me less confidence. The trailer didn't help sell me on Kevin Hart's character buying into black male stereotypes. For all intents and purposes, I had assumed this was going to be an endurance test of a movie to review.
I was proved partially wrong. I didn't dislike "Get Hard," and at some moments, I would say I really enjoyed it. The movie brilliantly depicts the prison system's preferential treatment of white-collar criminals, the way we look at financial institutions as bad guys post-Lehman Brothers and the privilege of ignorance in Ferrell's character. There's a very big awareness about the stereotype threat and the class privilege of its characters.
Like the 1983 movie "Trading Places," "Get Hard" touches upon issues of race, class and Wall Street stereotypes all while keeping the jokes flowing. Ferrell and Hart maintain amazing comic rapport, bouncing kinetic energy and one-liners off each other with ease. Ferrell plays the naive James King, a financier framed for fraud and embezzlement. Hart brings all his enthusiasm to the role of Darnell Lewis, a happily married workingman with a young daughter he'd like to put in a better school district. King asks Lewis to give him lessons on how to survive prison when he wrongfully assumes Lewis has a criminal background because he is black. Lewis decides to exploit King's prejudice and even comes around to befriend him.
Unfortunately, not everything is so hilarious. While "Get Hard" succeeds in denouncing stereotypes about black men, it reinforces the perception of Latinos as gardeners and maids. The characters played by Hart and T.I. (who cameos as Lewis' cousin and gang member) are radically different, but the staff under King's employ have little agency to show otherwise. While we get to see Darnell with his family, that does not happen with any of the Latinos on staff. The same could be said for the black women in the film; their depictions fluctuate between Darnell's pushy wife and the hypersexualized women twerking in the Crenshaw Kings' home. Deriding the stereotypes of one marginalized group doesn't really feel like a victory if other stereotypes are reinforced.
Likewise, because modern comedy has equated prisons to rape, there are several unoriginal jokes to that effect. However, in the spirit of one-upmanship, "Get Hard" goes one better. Lewis reasons since King is incapable of learning how to fight, he must learn to perform fellatio and challenges him to pick up a gay stranger at a bar. It's a rather uncomfortable scene because the premise of the joke is that the worst thing that could happen to King in prison is that he might have to perform oral sex on a man. It's homophobic and not that interesting, even with a fake penis in Will Ferrell's face.
And in that sense, "Get Hard" feels a lot more like an exercise in weak writing than a classic comedy.
"Get Hard" opens in theaters March 27. The SXSW Film Festival runs March 13-21. For the rest of my coverage, follow me on Twitter @mcastimovies.
© Copyright IBTimes 2022. All rights reserved.
FOLLOW MORE IBT NEWS ON THE BELOW CHANNELS