'Mr. Robot' Creator Sam Esmail Teases Different, 'Darker' Season 2 At New York Comic Con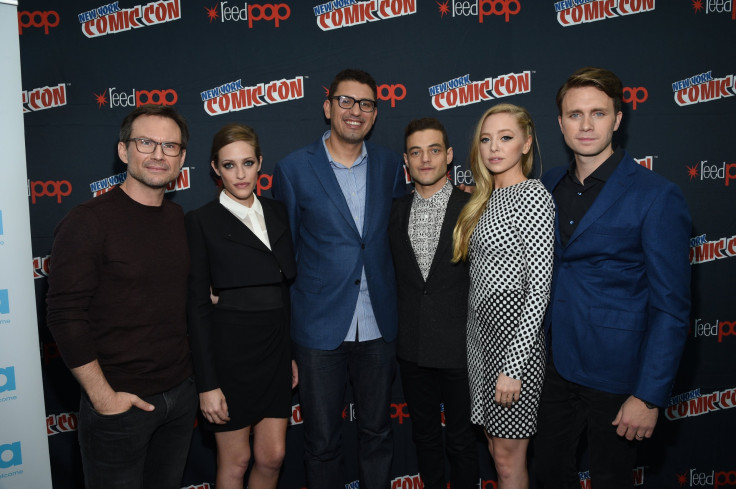 Elliot Alderson (Rami Malek) set out to change the world in Season 1 of USA's "Mr. Robot" and in many ways -- without giving away any spoilers -- he did. Does that mean the show will change too? Series creator Sam Esmail was at New York Comic Con to tease what is in store for Season 2.
Esmail made clear in the show's panel at Comic Con Friday that Season 2 will be "dark." It will also be different. The society hack has essentially hit the reset button on the economy and, in many ways, society itself. However, Esmail told reporters at Comic Con while the new episodes will be a change, it will still be the same show.
"In the wake of all these awesome reboots -- 'The Leftovers' just rebooted and 'Halt and Catch Fire' just rebooted very successfully -- we were talking in the writers room about how this season is in many ways kind of a reboot, but that it's also very much a continuation of what happened in Season 1 and kind of the reactions, consequences and repercussions of what happened," Esmail said.
However, the shows Esmail mentioned came off debut seasons that received mixed reviews. "Mr. Robot," on the other hand, has been met with near universal praise. Does that mean Esmail has any fears about flipping the script? Not one bit.
"One of my favorite characters was Vera, the drug dealer. He had like two episodes and people loved him and we moved on. We were never afraid to be like, 'We're going to do something awesome; we are going to create an awesome storyline and then move on,'" Esmail told International Business Times. "We were never of the opinion that we have to drag things out, even if we thought we struck gold. We always had the confidence that we could come up with something better or cooler."
Season 2 of "Mr. Robot" begins filming in March. Fans can expect the new episodes to land on USA in the summer of 2016.
Watch the trailer for "Mr. Robot" below:
© Copyright IBTimes 2023. All rights reserved.