MSNBC Democratic Debate Highlights 2016: Best Video Clips, Questions, Insults And Gaffes From Sanders, Clinton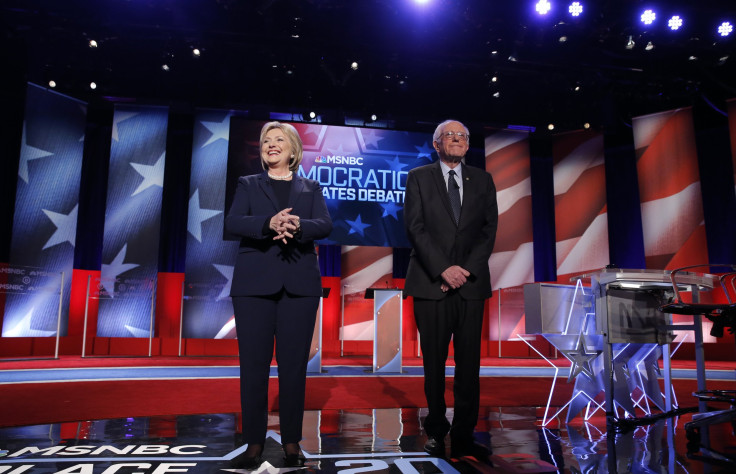 In the final stretch heading into the New Hampshire primary Tuesday, Democratic candidates former Secretary of State Hillary Clinton and Vermont Sen. Bernie Sanders debated one another Thursday night in Durham, New Hampshire. The event was the first time that the two candidates met one-on-one without the presence of former Maryland Gov. Martin O'Malley, who dropped out after the Iowa caucuses Monday.
After Clinton barely beat Sanders Monday in Iowa, the fight is on for the Democratic nomination. Long seen as a long shot with perhaps overly idealistic plans, Sanders has proven to be a strong opponent to Clinton and is expected to win in Tuesday's New Hampshire primary should polling in the state prove accurate.
In the past weeks, Clinton and Sanders have sparred on the issues they hold dear, including campaign finance reform, Wall Street reform and reforms to the nation's healthcare system. They've also engaged in a heated war over which of the two is the most electable and which can truly carry the mantle of progressivism in the race.
The debate was no different, and produced some memorable moments between the two presidential aspirants. Here are a few:
Clinton accused Sanders of running a smear campaign to question her progressive credentials. Sanders has been accusing Clinton of not actually being progressive on the issues that matter to voters — like healthcare reform or Wall Street regulation — while Clinton has repeatedly defended herself saying that she is a "progressive who gets things done" and doesn't have lofty policy dreams.
This is a video that Sanders mentioned during the debate and urged viewers to go find in which he questions then-Federal Reserve Chairman Alan Greenspan. In the video Sanders tells Greenspan that his policies are endangering the economy.
Once again, Clinton is seen here trying to draw a difference between herself and Sanders. She has consistently attacked her opponent for policy proposals that she sees as impractical. To a large extent, the race between the two has resolved around whether or not Democrats want to take a gamble on Sanders's loftier ideals and promise of "political revolution" or play it safe with a more pragmatic nominee.
HUGE NEWS: @HillaryClinton Refuses To Release The Transcripts Of Her Paid Wall Street Speeches #DemDebatehttps://t.co/llL02Eo1VJ

— America Rising PAC (@AmericaRising) February 5, 2016

A common attack on Clinton lately has been that she received hundreds of thousands of dollars from major banks for paid speeches. She is seen here being asked by moderator Chuck Todd whether she would release the transcripts from those speeches.
Watch Hillary Clinton shoot down Bernie Sanders' characterization of her as "The Establishment" #DemDebate https://t.co/OTm3injQlk

— NBC News (@NBCNews) February 5, 2016

Sanders is labeling Clinton as the "establishment" candidate in the race, referencing the fact that in Congress he has technically been an independent (though he caucused with Democrats). Clinton responded that because she is a woman she is not the establishment. References to gender inequality aside, it's noteworthy that the two met in the 1990s in Washington, and they have both been involved with the federal government in some capacity since.
WATCH: Clinton, Sanders tackle the 'progressive' issue at #DemDebate https://t.co/z9YN8b7aVF

— Meet the Press (@meetthepress) February 5, 2016

Clinton maintains a healthy lead in national polls, beating Sanders by 15.5 points with Democratic voters, 51.8 to 36.3 percent, according to Real Clear Politics averages of polling. But, given the staggered nominating system, Sanders still has an opportunity to catch up. Though he lost in Iowa, the close results meant that his performance there was widely praised. Sanders could build on that momentum in New Hampshire, where he leads Clinton 56 percent to 37.8 percent, according to RCP.
The path after New Hampshire, which borders Sanders's home state, appears to be more favorable toward Clinton. In the Feb. 20 Nevada caucuses, Clinton leads 50 percent to 30.5. In the Feb. 27 South Carolina primary, she leads 62 percent to 32.5 percent.
© Copyright IBTimes 2023. All rights reserved.