MSNBC Plugs Hole In Evening Schedule By Borrowing 'With All Due Respect' From Bloomberg TV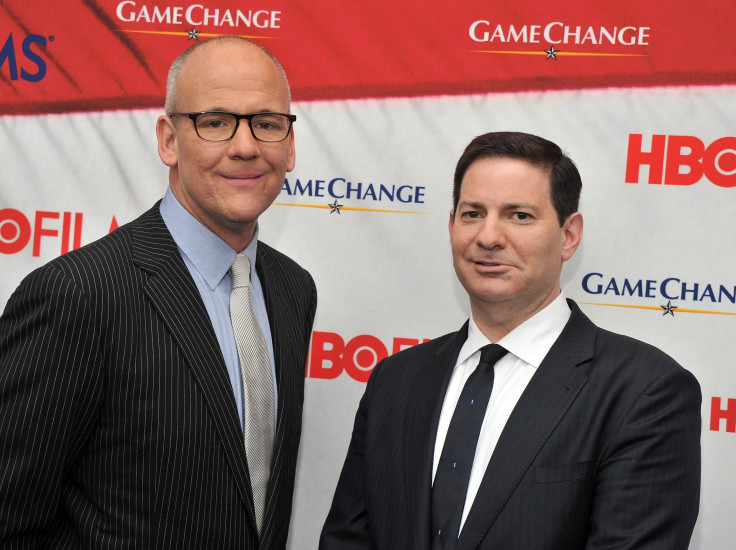 MSNBC announced Monday that it had plugged a hole in its evening schedule with a new deal to replay episodes of Bloomberg TV's political talk show "With All Due Respect," hosted by "Game Change" authors Mark Halperin and John Heilemann. The hosts announced the deal from the desk of "Morning Joe," comparing it favorably to that morning chat show.
"We call it homage," Halperin said with a smile. "John and I talk about politics not unlike what happens on this program," referring to "Morning Joe." The show, which airs on Bloomberg at 5 p.m., will fill the vacant spot left on MSNBC when Rev. Al Sharpton's "Politics Nation" was moved from a nightly slot to Sunday mornings, effectively retiring it.
"With All Due Respect" occasioanlly produces soundbites that crack into the news cycle, like when Halperin badgered Sen. Ted Cruz to ramp up his Hispanic heritage throughout an entire interview (he later apologized) or when Donald Trump attempted to wax Christian during his push to attract evangelical conservatives.
The deal, originally reported by New York magazine's Gabriel Sherman, is the latest in a longterm shakeup at MSNBC as president Andy Lack rebuilds the channel's brand, axing longstanding "liberal" hosts with a new emphasis on breaking news and a fresh attitude.
How fresh Halperin and Heilemann's show actually feels is another story. The program, already panned by journalists as hackish and trite, doesn't appear to be inspiring much confidence in a new MSNBC lineup.
Still, if the survival of the ratings-challenged "Morning Joe" proves anything, it's that MSNBC values a show with access to politicians and power brokers as a way to maintain the perception of influence among the powerful.
"Will you have us on?" co-host Mika Brzezinski asked Halperin on Monday.
"We'll have you on regularly," Halperin answered. "Because sometimes at 5 p.m. and 6 p.m. eastern time you guys have stuff you want to say and you don't want to wait twelve hours."
© Copyright IBTimes 2023. All rights reserved.