MSNBC 'Regrets' Swarming San Bernardino Shooters' Apartment; CNN Agrees [VIDEO]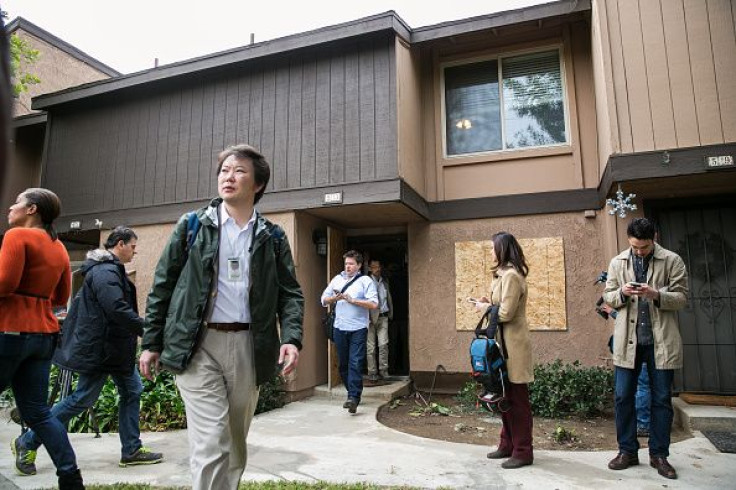 After a nearly unanimous scolding from its journalistic peers, MSNBC released a statement Friday afternoon apologizing for a frenzied segment earlier in the day in which its reporters broadcast live images of Social Security cards and family photos inside the San Bernardino, California, home of shooting suspects Syed Farook and Tashfeen Malik. "MSNBC and other news organizations were invited into the home by the landlord after law enforcement officials had finished examining the site and returned control to the landlord," said a statement provided to International Business Times. "Although MSNBC was not the first crew to enter the home, we did have the first live shots from inside."
"We regret that we briefly showed images of photographs and identification cards that should not have been aired without review," the statement concluded.
Media members were let into the apartment of Farook and his wife, Malik, after the building's landlord cracked open the door. He later told CBS News that he didn't mean to invite the press in. "They rushed," he said.
MSNBC reporter Kerry Sanders sifted through family photos, many of children, Social Security cards, a driver's license, Arabic language workbooks and a baby's crib. Narrating everything as he went, Sanders was soon interrupted by MSNBC anchor Andrea Mitchell back in New York, who cut away from the footage.
"Yeah, let's not show the child," Mitchell said to Sanders at one point.
Erika Masonhall, NBC vice president of communications, tweeted amid the outrage directed at the network: "[T]he apt owner permitted the press tour, the FBI has already cleared out useful evidence."
CNN, which swarmed the apartment after MSNBC, released a statement that emphasized it had refrained from airing the kinds of details its competitor showed the world.
"CNN, like many other news organizations, was granted access to the home by the landlord," the statement similarly began. "We made a conscious editorial decision not to show close-up footage of any material that could be considered sensitive or identifiable, such as photos or ID cards."
The FBI said it has concluded its investigation at the apartment, adding that it was not an active crime scene when the press stampeded through.
© Copyright IBTimes 2023. All rights reserved.