Murdoch's Fox Sports Keeps New Jersey Gov. Chris Christie Off Camera During Dallas Game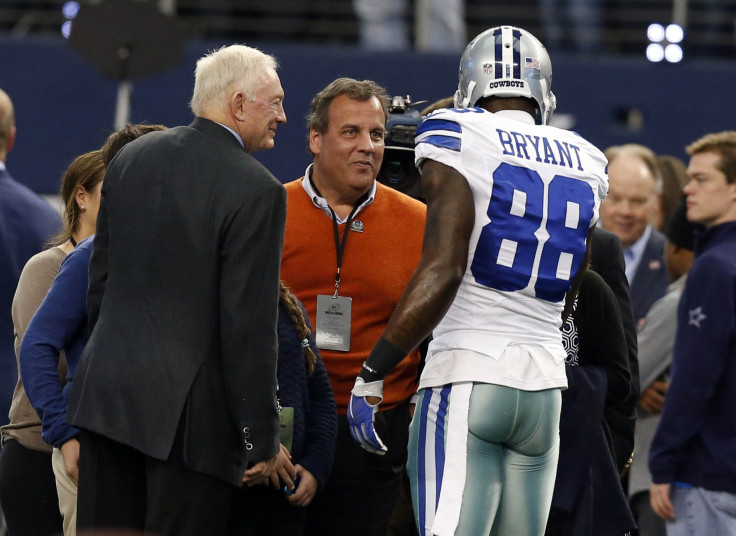 New Jersey Gov. Chris Christie's boisterous celebration with Dallas Cowboys owner Jerry Jones provided one of the most talked-about images from Fox Sports' telecast of the Cowboy's win over the Detroit Lions last week, especially among political wags. Yet after ethics questions surfaced about Christie's relationship with Jones, Fox managed to avoid showing Christie at all in Sunday's matchup with Green Bay. Whether inadvertent or deliberate, it was another political gift to Christie from Rupert Murdoch, executive chairman of both News Corp. and 21st Century Fox.
Christie's relationship with the Cowboys owner is newsworthy for a lot of reasons as he readies a likely presidential campaign in 2016. His appearances give him rare access to a national audience of 45 million, with a newly slimmed waistline showing his support for "America's Team." But his last appearance, jumping up and down in his orange "lucky" sweater with Jones, triggered criticism of New Jersey's Republican governor for potentially violating state ethics rules on accepting gifts, as well as an ethics complaint. Undaunted, the governor traveled -- this time on his own dime -- to Lambeau Field to watch Dallas play Green Bay.
But you wouldn't know it from watching the Fox telecast on Sunday.
"Our responsibility is to cover the game on the field and the players," a spokesman told International Business Times. "Shots of owners during games occasionally happen, and when they do they're always spontaneous. Yesterday in Green Bay, unlike last week at AT&T Stadium, the governor was in an enclosed suite and there were no clear, compelling shots."
A spokesman couldn't recall if Fox had aired any shots of Jones in luxury suites at all, also highly unusual for a very hands-on owner whose team was eliminated controversially from the playoffs. NJ.com caught the two celebrating a dramatic Dez Bryant catch, which officials then nullified, but Fox Sports viewers never saw what NJ.com viewers did.
Between last week's Christie coverage on Fox Sports and this week's blackout, the governor was slammed for accepting travel to the Detroit game, as well as three other Dallas games with his family this year. As IBTimes first reported, New Jersey has delivered big tax subsidies to the NFL under Christie. Additionally, Christie pushed to award a Port Authority of New York and New Jersey contract to a firm, Legends Hospitality LLC, that is partly owned by Jones. State ethics rules prohibit gifts of travel or tickets to public officials from those like Jones who are doing business with the state. Christie argues that there is an exception for gifts from family and friends.
That controversy makes Christie's appearance at another Dallas game newsworthy, or at least noteworthy, given that sightings of high-level politicians and celebrities are standard fare for sports broadcasts. Yet he was nowhere to be found on Fox Sports, making the blackout of Christie another in a long list of what appear to be favors to the New Jersey governor from Murdoch's company.
Christie and Murdoch have developed a symbiotic relationship over the years. As a federal prosecutor in 2005, Christie declined to pursue leads from the Federal Bureau of Investigation that detailed allegations of News Corp. computer hacking.
Upon taking office, Christie used his office to intervene on News Corp.'s behalf in its dispute with a local cable operator. In that 2010 squabble, which revolved in part around News Corp.'s NFL programming, Christie accused Cablevision of "not fulfilling the obligation they have to ratepayers" in a contract fight that saw News Corp. try to double its fees. The standoff led to News Corp. pulling its content off the cable system. Christie pushed his state utilities commission to investigate Cablevision, and the company soon submitted to News Corp.'s contract demands.
The same year as that fight unfolded, Christie met with Fox News chief Roger Ailes at a private dinner. Murdoch soon began pushing Christie to run for president in 2012. In 2013, only days after Christie became the chairman of the Republican Governors Association (RGA) in 2013, News Corp. donated $100,000 to the organization.
In 2014, Christie's education commissioner stepped down to become chief executive of Amplify Insight, an education technology firm that is a subsidiary of News Corp. That same year, the Christie-appointed chief of Newark's school system awarded $2.3 million worth of contracts to Amplify, according to longtime education journalist Bob Braun. Amplify is also listed as having donated $50,000 to the RGA's nonprofit arm when Christie was serving as the RGA's vice chair.
Now, in just the first few weeks of the new year, News Corp. has helped -- inadvertently or deliberately -- downplay a burgeoning political controversy, one that state lawmakers say might warrant a formal investigation.
Before Sunday's game Rich Russo, director of Fox's telecast, told the New York Daily News that "we're not going into this game looking for Governor Christie." He argued that in previous games, Fox Sports wasn't deliberately looking for Christie, just a reaction shot of Jones.
"Believe me, at the time I'm not thinking about the governor," he said. "We're thinking about Jerry, his emotion, his elation. Governor Christie just happened to be in the box."
Matthew Cunningham-Cook contributed research to this report.
FOR FREE to continue reading
✔️ Unlock the full content of International Business Times UK for free
offer available for a limited time only
✔️ Easily manage your Newsletters subscriptions and save your favourite articles
✔️ No payment method required
Already have an account?
Log in
© Copyright IBTimes 2023. All rights reserved.