Muslims Face 'Toxic' Environment In Wake Of California Attacks As Islamophobia Escalates In US
Sharif Elhosseiny was on his way to lead morning prayers at the Islamic Center of Palm Beach Friday morning when he received a disturbing phone call. The place of worship had been broken into and vandalized, a worshipper who arrived early found. Multiple windows were smashed in, and furniture inside was overturned. The police were on their way.
"We feel hurt because we've worked so hard to condemn terrorism," said Elhosseiny, the president and volunteer religious leader of the center. "We've worked so hard to communicate to our community that Islam is not about these criminal terrorist attacks."
The incident in Palm Beach, Florida, occurred less than 24 hours after Wednesday's attack in San Bernardino that left 14 dead and 17 injured.
"We are sad. At the same time, we understand that people see what they see on television, and they have an impression of Islam that is not very good," he said. "But we know this is one person; he doesn't represent most of the people in this community."
Prayers will recommence in the center this evening after members clean up the mess and start repairs. But the damage wrought by Islamophobia to Muslim communities across the U.S. is not over.
"Muslim people are worried everywhere," he said.
Friday's incident in Florida could be one of the first in an ugly wave of anti-Muslim acts following the California attacks. On Thursday, a mosque in Manassas, Virginia, received a threatening call from someone who said he belonged to the Jewish Defense League.
"We are checking if one Jew has been killed in California. You all will be sorry. You all will be killed," the unidentified caller said, according to reports.
"We haven't seen this toxic, anti-Muslim atmosphere since 9/11. And in some ways, it might even even be worse in the terms of the mainstreaming of anti-Muslim hate in our society," the Council on American-Islamic Relations National Media Director Ibraham Hooper told International Business Times.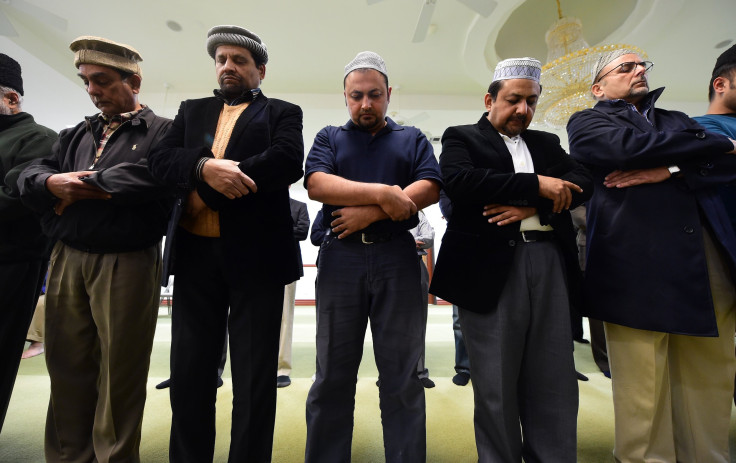 In the weeks following the Paris Nov. 13 terrorist attacks, the Council on American-Islamic Relations has received more reports about acts of Islamophobic intimidation, threats and violence targeting American Muslims (or perceived Muslims) and Islamic institutions than during any other short period of time since 9/11.
In San Diego, a person allegedly shoved the stroller of a visibly pregnant Muslim woman wearing a hijab into her stomach. In Meriden, Connecticut, shots were fired into a mosque. In Cincinnati, a University of Cincinnati pre-med student wearing a hijab reported she was called a "terrorist" and almost run over by an angry driver.
Numerous experts pointed to some of Donald Trump's statements as a recent example of Islamophobia going mainstream. Trump repeatedly has insisted that thousands of American Muslims in New Jersey celebrated, "dancing in the streets" on 9/11. He also suggested all Muslims be tracked by the federal government by having to have "special IDs" and said that he would consider shutting down mosques.
"I worry and fear a violent response after the San Bernardino attacks," said Saher Selod, assistant professor of Sociology at Simmons College who is working on a book about surveillance of Muslim Americans. "It's a frightening time for Muslims."
© Copyright IBTimes 2023. All rights reserved.