'MythBusters' Star Adam Savage Posts Video Of Final Scene Filmed For Canceled Discovery Channel Series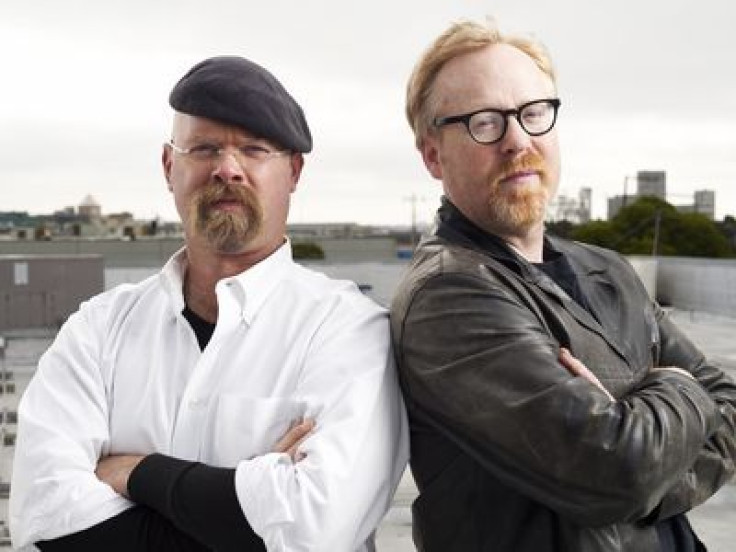 And that's a wrap! On Monday, "MythBusters" star Adam Savage took to Twitter to release a behind-the-scenes look at the final scene filmed for the long-running Discovery Channel series. So, grab yourself a Kleenex now, because this video will definitely leave you misty-eyed.
"The last scene EVER filmed for @MythBusters," Savage wrote in a tweet, sharing the fun fact that the clip also happens to be the very first scene from the show's "Revealed" episode. The reveal installment gave viewers a peek at the production of the final season, featuring clips from upcoming episodes.
The last scene EVER filmed on @MythBusters (which ​also happens to be the first scene of our Revealed special). https://t.co/ZWrezqcPyd

— Adam Savage (@donttrythis) January 4, 2016
In the 40-second clip, viewers can see Savage and his co-star Jamie Hyneman preparing to bust yet another explosive myth.
"You ready?" Hyneman asks Savage in the scene.
"Oh, yeah. I'm ready," Savage, who is sporting a grenade-accessorized ensemble, replies.
"Let's get to work," Hyneman states before walking away. Savage then looks at the camera to say: "Final season, here we come!"
As the two make their way over to a work bench, a crew member calls cut before another notes that "MythBusters" is officially "in the can."
Savage laughs at the remark, then tosses the Discovery Channel crew a few grenades from his shirt.
"Here you go … grenades for everybody," he says before giving them a sing-song of a warning. "Don't let them drop!"
In October, the network announced that "after 248 episode, 2950 experiments, 1050 myths and 900 explosions," the beloved science program, which first premiered in 2003, would be coming to an end.
"Our crazy, wild, amazing, wooly, wonderful, insane adventure is finally coming to a close," Savage said in a video, confirming that Season 14 would be the show's last. Then duo went on to promise longtime fans the final installment, set to premiere Saturday, Jan. 9, would be full of "awesome" experiments.
Audiences got a look at what some of those amazing tests would be when Discovery Channel released a trailer for the show's "Explosion Special." In the fiery episode, Savage and Hyneman will test several myths, including one inspired by the hit 1985 action series "MacGyver."
"MythBusters" will air on Saturday, Jan. 9, on Discovery Channel.
© Copyright IBTimes 2023. All rights reserved.