Nadya Suleman: After Posing Topless, Octomom Desperately Turns To Government Aid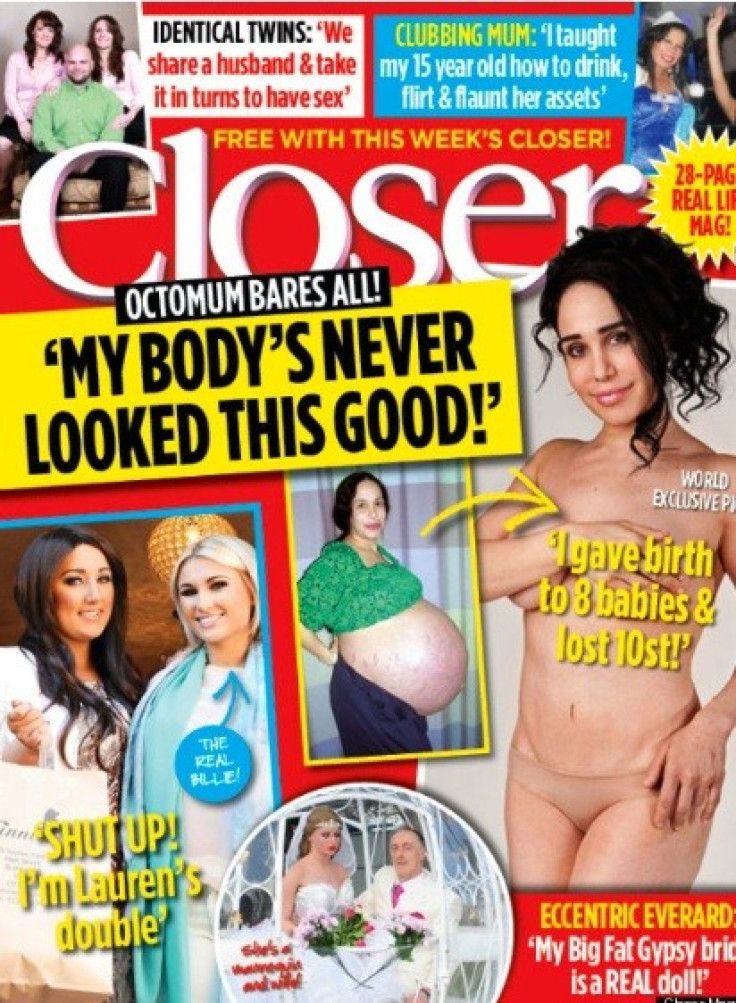 Bringing up 14 children as a single parent without even a stable job is certainly not an easy task and Octomom Nadya Suleman must have realized it.
After recently posing nude for Closer magazine, the 36-year-old single parent had no choice but to turn to the government welfare for money even though she sounded very adamant in 2010 when she announced she would never take that option.
According to a report in TMZ, Suleman is now receiving $2,000 per month from the Welfare. The state government provides financial support to large families who have an earning of less than $119,000 a year. However, her special debit card will be closely monitored by the government to make sure she is making the right use of money, like spending on food.
Suleman, who has to take care of her 14 children round the clock, cannot take up a steady job for obvious reasons.
She had spoken pretty highly of herself as a mother in her interview with Closer magazine. She had said: I'm such a good mother.
I'm so loving, and my kids are so happy. There's never been a time I've regretted having so many.
But after falling short of money, she might not be able to keep up to her words. Suleman had to pull out her kids of the $4,000-a-month private school they were attending, TMZ reported. Only her autistic son is continuing in the expensive school.
This is certainly a sad turning point in the story of a mother who went topless for the magazine shoot.
You wanna know how much I got? I got $8,000. I have to do what I have to do to take care of my family, and I'm not ashamed. I'm not ashamed at all ... I've never sacrificed my morals and values, she told Anderson Cooper on his talk show Anderson.
She admitted that she had done it for money. About her financial problems, she said she was struggling with mortgage payments and would have to move from her house soon. She added that she did not like to beset her children with her monetary problems and preferred to keep them happy and carefree.
I don't feel it's appropriate to burden [the kids] with that kind of stress, she says. I do my best to have life for them every day as happy as possible. We play, we enjoy the moments we have together and that's all that really matters.
The Daily Mail has reported that Suleman is currently taking classes to qualify as a fitness trainer and plans to train people while her children sleep, once she gets her license.
© Copyright IBTimes 2023. All rights reserved.