Naked Woman Found Stuck Between 2 Industrial Buildings, Rescued After 2 Hours
KEY POINTS
A naked woman was rescued after she was found stuck between two industrial buildings
Firefighters cut out a chunk of a concrete wall to get her out of the situation
She was examined by paramedics following her rescue, but her medical condition was unclear
A naked woman who got herself stuck between two industrial buildings in Santa Ana, California Tuesday was rescued by authorities after a two-hour emergency operation, which involved firefighters cutting out a chunk of a wall to get her free.
Firefighters had been dispatched to 1020 North Harbor Boulevard at around 2:05 p.m. in response to a woman who was "in between two walls of two commercial businesses," Capt. Thanh Nguyen of the Orange County Fire Authority (OCFA) said, according to KCAL 9.
"She's wedged in there and we can't physically get in there and she can't crawl out," Nguyen added.
Prior to the OCFA arriving, officers of the Santa Ana Police Department had been called to the area after workers at the nearby Harbor Shop business heard the woman's cries for help and were unable to ascertain the origin of the sound, KTLA reported.
"We heard a lady in the back, behind our shop, screaming, screaming, screaming... We called the cops and the cops came in and got on the roof and looked between the two walls and she's all naked," said the owner of the business, who wished to remain anonymous.
"She was in pain. She was screaming in pain. She was upside down too," he added.
The woman had been trapped inside a space just eight inches wide, firefighters said.
A hole was drilled in one of the walls to insert a small camera through to get a better view before firefighters attempted to cut out parts of the wall to free her, Nguyen explained, as per KCAL 9. According to the him, the woman was awake and talking to firefighters during the rescue operation.
Footage of the rescue uploaded by the OCFA late Tuesday showed firefighters using equipment to drill out what appeared to be marked out parts of the wall.
Firefighters were able to get the woman out at around 4:30 p.m. after cutting a chunk of concrete out of one of the walls from S&C Auto Body Shop, which was the business right next to Sound Harbor. She was examined by paramedics present on the scene at approximately 5:40 p.m., according to KCAL 9.
"It took our technical rescue team two hours, to make a hole, carefully get to her while we were cutting," Nguyen said.
It was unclear how the woman found herself trapped between the walls of the two businesses.
"That's a mystery to all of us here right now," Nguyen was quoted as saying by KTLA. He acknowledged that the situation was unusual but added that the department was trained for such scenarios.
No further details have been disclosed by authorities.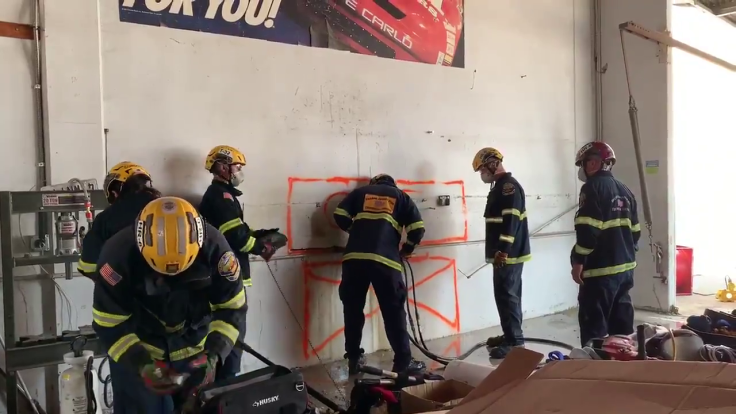 © Copyright IBTimes 2023. All rights reserved.