Naomi Judd's Husband Larry Strickland Shares How Late Wife Touched Strangers' Lives
KEY POINTS
Larry Strickland, Ashley Judd, and Wynonna Judd honored Naomi Judd at the CMT memorial service
Strickland recounted how his late wife would talk to anyone she made eye contact with for several minutes
Strickland received a letter from a stranger Naomi spoke with on a plane, and it gave him pleasure and comfort
Naomi Judd's husband shared how the one-half of The Judds touched lives, even those she didn't know.
Naomi's widower shared an emotional speech at CMT's "Naomi Judd: A River of Time Celebration" memorial service Sunday. Strickland honored Naomi's beautiful heart and the warmth she shared with the many people she touched.
"Naomi never met a stranger," Strickland said of his late wife, as quoted by Us Weekly. "Much to my displeasure, she would start a conversation with anyone who made eye contact with her, and we would end up standing 10, 20, [or] 30 minutes on a sidewalk while she talked to a complete stranger about their passions and their dog."
Strickland also received a touching letter from a passenger who met Naomi on a plane to Nashville.
"It's a small comfort, I'm sure, but my life seems a lot richer after meeting your wife, however briefly," he recalled what was written in the letter. "Obviously, I didn't know Naomi at all, but I can tell you she spoke highly and warmly of you, and the life you shared together. Rest assured she loved you and had no qualms about telling me, a stranger on a plane, that was so."
Strickland added that the note from the stranger gave him "great, great pleasure and comfort" as he continued to grieve the loss of his wife.
Naomi's daughters, Ashley and Wynonna, were also present at the memorial service. Both honored their mom, with Wynonna saying she would continue The Judds' planned tour.
"I've never sung so bad in my life. I'm so tired and so heartbroken," she said. "But I'm here with you and for you, as you have been for us for 38 years."
She added, "I've made a decision, and I thought I'd share it on national television: that after a lot of thought, I'm going to have to honor her and do this tour. I'm just going to have to. Because that's what you would want. And Bono once told me, 'Give them what they want, not what you want.'"
Ashley confirmed on "Good Morning America" that her mom died from a self-inflicted gunshot wound. She and her sister announced earlier that their mom had died from a mental illness. Naomi had been very open about her life-threatening depression years before her passing.
"She used a weapon. My mother used a firearm," the "Double Jeopardy" actress said. "So that's the piece of information we are very uncomfortable sharing."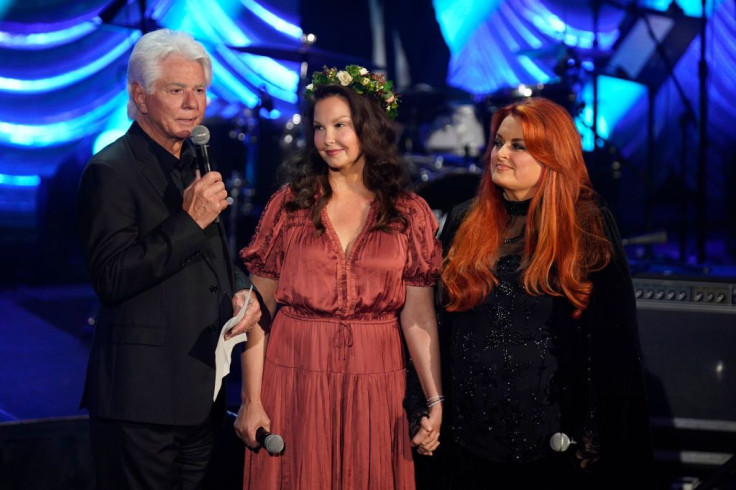 © Copyright IBTimes 2023. All rights reserved.