NASA Space Shuttle Atlantis Sits on Launch Pad, Waiting for Last Mission (PHOTOS)
NASA space shuttle Atlantis is at the Launch Pad 39A, getting ready for its targeted July 8 launch to the International Space Station, which will close 30 years of the space shuttle program.
The space shuttle Atlantis will carry the Raffaello multipurpose logistics module to deliver supplies, logistics and spare parts to the International Space Station during STS-135, which is the last planned space shuttle mission since STS-1.
The mission will also fly a system to investigate the potential for robotically refueling existing spacecraft and return a failed ammonia pump module to help NASA better understand the failure mechanism and improve pump designs for future systems.
Atlantis is to fly the 12-day mission with four crew members: Commander Christopher Ferguson, Pilot Douglas Hurley and Mission Specialists Sandra Magnus and Rex Walheim.
On Tuesday at 8 pm EDT, space shuttle Atlantis had been scheduled to begin its track from the Vehicle Assembly Building to Kennedy Space Center's Launch Pad 39A. But due to a minor hydraulic leak on a corner valve for the jacking and elevation system on the crawler-transporter, the final move was delayed by 40 minutes.
After technicians repaired a minor hydraulic leak on the crawler-transporter, the first motion of the rollout started at 8:42 pm EDT on Tuesday. This is the last time a space shuttle will roll out to the launch pad, NASA said in a Twitter feed.
The crawler-transporter with Atlantis and its mobile launcher platform on top temporarily stopped about half way before completing the move that allowed technicians to preemptively grease some bearings in the crawler-transporter that were starting to heat up.
The crawler-transporter, which travels less than one mile per hour, uses 125.7 gallons of diesel fuel per mile on its way to the launch pad. Space shuttle Atlantis completed its 3.4-mile trek, which took about 7 hours, from Vehicle Assembly Building to Launch Pad 39A.
The Atlantis spacecraft, external fuel tank and twin solid rocket boosters, attached on the mobile launcher platform, were secured to the launch pad at 3:29 am EDT on June 1.
While Endeavour was landing, crews rolled Atlantis to Launch Pad 39A a few miles from the Shuttle Landing Facility. The space shuttle Endeavour landed at Kennedy Space Center in Florida at 2:34 am EDT after completing the 16-day STS-134 mission to the International Space Station. Endeavour shuttle travelled 17,500 miles per hour when orbiting the Earth and until it entered the atmosphere.
In retirement, space shuttle Atlantis will help the agency bring that story to life for generations to come from its launch site at Kennedy Space Center in Florida, NASA Administrator Charlie Bolden said on April 12.
Not only will the workers who sent it into space so many times have a chance to still see it, Bolden said to cheers and applause while standing in front of Atlantis outside Kennedy's Orbiter Processing Facility-1, the millions of visitors who come here every year to learn more about space and to be a part of the excitement of exploration will be able to see what is still a great rarity -- an actual flown space vehicle.
After the space shuttle Atlantis' return from space, technicians and engineers will spend a few months prepping the vehicle for public display -- paving the way for a grand opening as early as the summer of 2013.
NASA's remaining shuttles will embark on longer journeys to reach their final destinations. Shuttle Discovery will go to the Smithsonian's National Air and Space Museum Steven F. Udvar-Hazy Center in Chantilly, Virginia, for exhibition.
Endeavour will go to the California Science Center in Los Angeles, and Enterprise will be featured at New York City's Intrepid Sea, Air and Space Museum, said Bolden. He said many of the applicant institutions will receive significant shuttle hardware and artifacts to share with visitors.
Take a glimpse of the space shuttle Atlantis' sitting at launch pad 39A, waiting for the last mission flight: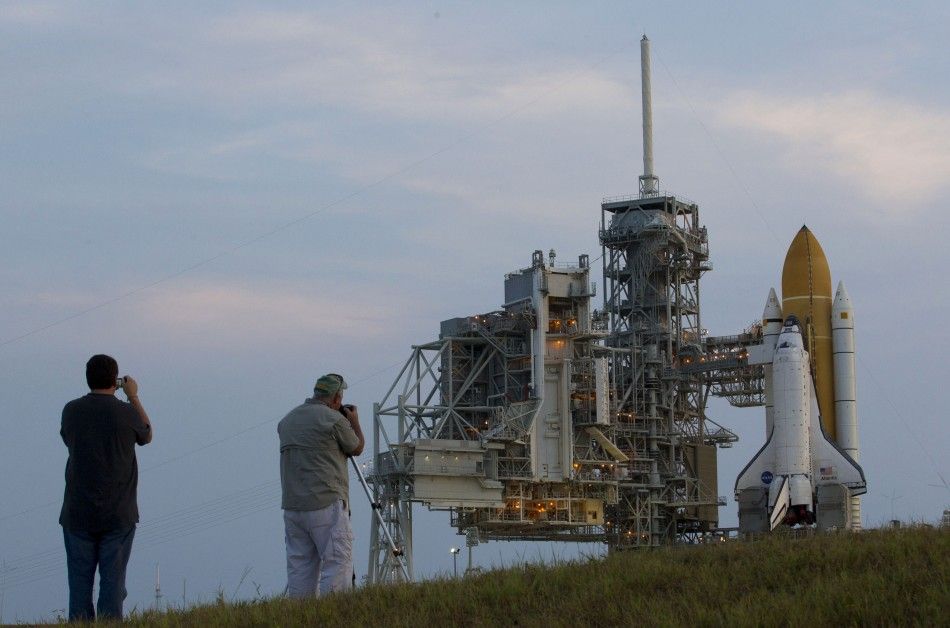 © Copyright IBTimes 2023. All rights reserved.