NASA Space Shuttle Endeavour's Final Landing Photos
NASA space shuttle Endeavour has landed for the final time at Kennedy Space Center after 248 orbits around Earth and a journey of 6,510,221 miles on STS-134 mission. Endeavour's next 'mission' will be attracting guests to the California Science Center museum in Los Angeles.
The youngest NASA shuttle Endeavour, after a 19-year career and 299 days spent in space, touched down for the last time at about 2:36 am Eastern Time.
Endeavour's main gear touched down at 2:34:51 and followed by the nose gear at 2:35:04 and wheels stopped at 2:35:36 am. STS-134 was the 25th and final flight for Endeavour, which spent 299 days in space, orbited Earth 4,671 times and traveled 122,883,151 miles.
The mission was about 16 days long. The crew members for Endeavour's STS-134 mission are Commander Mark Kelly, Pilot Gregory Johnson, Mission Specialists Michael Fincke, Greg Chamitoff, Andrew Feustel and European Space Agency astronaut Roberto Vittori.
The shuttle delivered a $2 billion cosmic ray detector, called Alpha Magnetic Spectrometer-2 (AMS), which will remain mounted on the space station for the next decade.
On April 12, NASA Administrator General Charles Bolden said Endeavour will be decommissioned and go to the California Science Center for permanent display.
The Endeavour will provide an educational platform for the public to celebrate California's long time leadership in science, technology, mathematics and engineering. We are confident that it will serve to motivate and inspire millions of young people to dream about possibilities and will attract and engage the next generation of California's and our nation's workforce in these fields, California Science Center President Jeffrey Rudolph said in a statement.
Meanwhile, NASA crew is preparing to launch the Atlantis space shuttle on July 8 to the International Space Station as part of the STS-135, which is the last planned space shuttle mission since STS-1 on April 12, 1981.
Space shuttle Atlantis just completed its 3.4 mile trek from the Vehicle Assembly Building to Launch Pad 39A and was secured to the launch pad at 3:29 am. The move began last night at 8:42 pm and took about 7 hours, NASA said in a statement.
Take a glimpse of the landing photos of space shuttle Endeavour: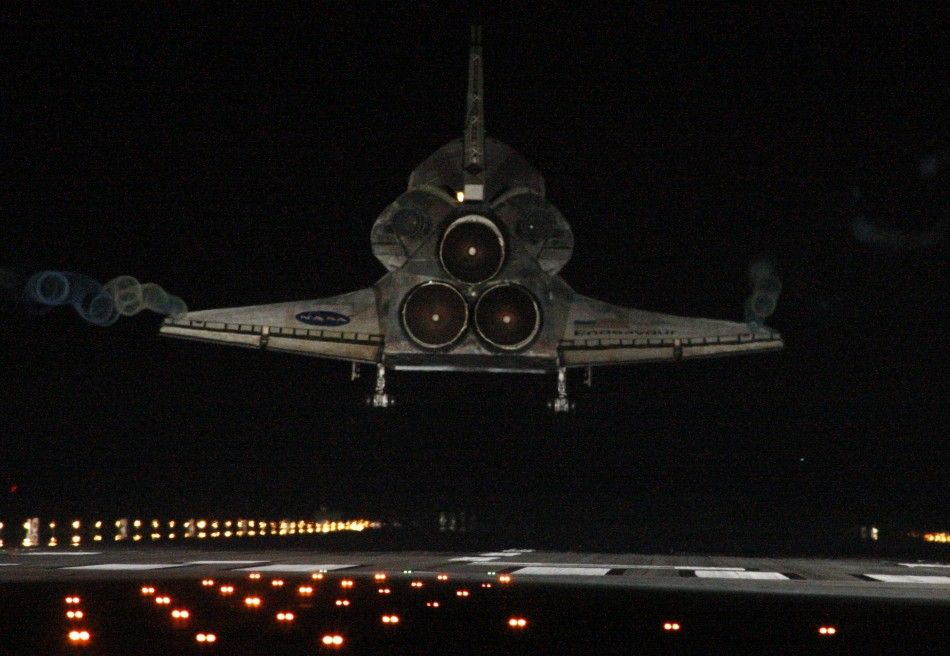 © Copyright IBTimes 2023. All rights reserved.