Nathan's Contest Participants to Show Fourth of July Patriotism by Eating Hot Dog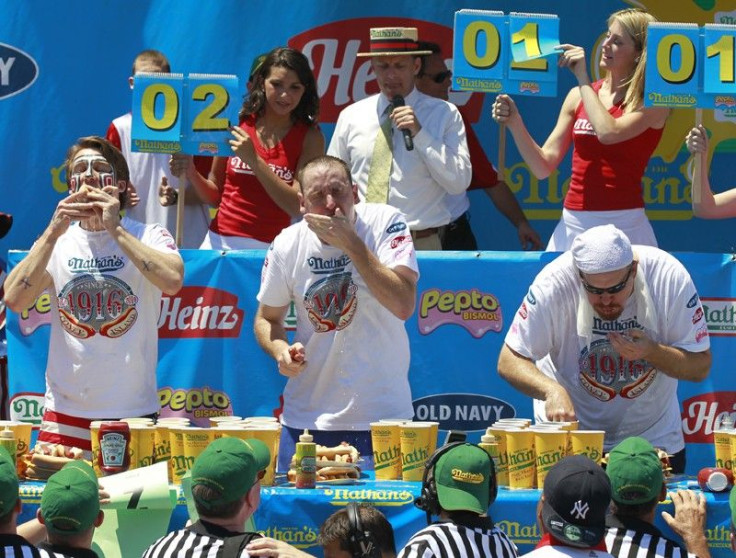 Thousands of people are expected at the annual Nathan's Famous Fourth of July International Hot Dog Eating Contest, which is set to begin today with pre-show at 10 am.
The contest will be split into two this year for the first time, one for men and another for women. The first-ever Women's Championship will begin at 11:30 am, followed by the Men's Championship at 12 Noon.
The final event is set to begin at Nathan's flagship restaurant at Surf and Stillwell avenues in Coney Island, Brooklyn. The 10-minute, all-you-can-eat contests will feature nearly 30 eaters from around the world.
The contest requires participants to consume the entire hot dog and bun. They can drink in between to moisten the path but buns cannot be softened by dunking in water.
The participants also include four-time Nathan's Famous champ Joey "Jaws" Chestnut of San Jose, CA and the women's division favorite, 100-pound eating phenom Sonya "The Black Widow" Thomas of Alexandria, VA.
This year marks the first time men and women will compete separately for the title of Men's Hot Dog Eating World Champion and Women's Hot Dog Eating World Champion, as well as a $20,000-cash prize for each division.
Reigning champion Chestnut holds the men's hot dog eating world record with 68 hot dogs and buns, the equivalent of 21,000 calories, in 10 minutes. Meanwhile, Thomas hold the women's hot dog eating world record with 41 hot dogs and buns.
In recent years, more than 40,000 fans have come to the free event, arriving as early as 10 a.m. For these fans, Nathan's Famous produces a pre-show with live music and entertainment from 10 a.m. to 11:30 a.m. In addition, Nathan's Famous will provide a jumbotron to increase visual access for fans.
The women participants are: Sonya the Black Widow Thomas, Alexandria, VA; Juliet Lee, Germantown, MD; Stephanie Torres, Las Cruces, NM; Michelle Lesco, Tucson, AZ; Larell Marie Mele, Long Pond, PA; Maria Sulkin, Clifton, NJ; Grace Lee, Atlanta, GA; Laura Leu, Brooklyn, NY; and Lauren Gallagher, North Easton, MA.
The men participants are: Joey Chestnut, San Jose, CA; Tim Eater X Janus, New York, NY; Pat Deep Dish Bertoletti, Chicago, IL; Bob Notorious B.O.B. Shoudt, Royersford, PA; Matt megatoad Stonie, San Jose, CA; Sean Flash Gordon, Downingtown, PA; Erik the Red Denmark, Seattle, WA; Gravy Brown, Chicago, IL; Aaron A-train Osthoff, Dubuque, IA; Pat Philbin, Moonachie, NJ; Damon Wells, Orange, CA; Pete Pretty Boy Davekos, Boston, MA; Adrian Morgan, Baton Rouge, LA; Big Brian Subich, Johnstown, PA; Lam Yat Ming, Representing China; Lu Ming Kui, Representing China; and Mak Tai Loi, Representing China.
Nathan's products are currently distributed in 50 states, the District of Columbia and four foreign countries through its restaurant system, Branded Product Program and retail licensing activities.
Nathan's hot dogs are marketed and sold in over 18,000 locations worldwide including over 8,000 retail locations and over 10,000 food service outlets.
© Copyright IBTimes 2023. All rights reserved.