National Pumpkin Cheesecake Day 2022: 4 Easy Step Dessert Recipes
This Friday just got a lot sweeter thanks to the arrival of National Pumpkin Cheesecake Day.
Cheesecake is typically made up of softened cream cheese, sugar, eggs, and a sweet crust made out of graham crackers, brownies, or other pastries.
However, each year on Oct. 21, 24 hours are dedicated to spicing up the average cheesecake recipe with pumpkin-flavored goodness.
Whether you want to make something in advance to serve over the weekend or your sweet tooth needs to be satisfied immediately, there is surely a pumpkin cheesecake recipe below that will meet your dessert needs.
Pumpkin Cheesecake Bars (Tasty)
Ingredients:
6 Tbsp. Butter, melted
10 Graham crackers, crushed
32 oz. Cream cheese, at room temperature
4 Eggs
1 Tsp. Vanilla
1 ½ Cups sugar
15 oz. Pumpkin puree, 1 can
Crumble Topping Ingredients:
½ Cup Butter
1 Cup Flour
½ Cup Brown sugar
1 Tbsp. Ground cinnamon
Instructions
Step 1: Combine melted butter and crushed graham crackers in a medium bowl and stir until the mixture develops a wet sand texture.
Step 2: Cover the bottom of a greased 9x13-inch baking pan with the graham cracker mixture, spreading it out evenly, and then chill.
Step 3: Combine the cream cheese, eggs, sugar, and vanilla in a large bowl. Stir until smooth.
Step 4: Spread half of the cheesecake batter into the chilled baking pan. Smooth the top and freeze.
Step 5: Preheat the oven to 325 degrees Fahrenheit.
Step 6: Mix the pumpkin puree with the remaining cheesecake batter and then spread it evenly onto the frozen cheesecake. Bake for 30 minutes.
Step 7: Prepare the crumble topping by stirring the butter, flour, brown sugar, and cinnamon in a medium bowl until it reaches a wet sand texture.
Step 8: Top the cheesecake with the crumble mixture and bake in the oven for another 25 minutes.
Step 9: Remove from oven and allow the cheesecake to cool at room temperature. For best results, place the dessert in the refrigerator overnight once it has completely cooled. Then slice and serve.
Pumpkin Cheesecake With Brownie Bottom (Taste Of Home)
Ingredients:
1 Package Fudge brownie mix (8-inch square pan size)
Cheesecake Layer Ingredients:
2 Packages Cream cheese, softened (8 oz. each)
½ Cup Sugar
¼ Cup Packed brown sugar
½ Cup Canned pumpkin
¼ Cup Plain yogurt
1 Tbsp. Vanilla extract
3 Large eggs, room temperature, lightly beaten
Topping Ingredients:
¾ Cup Heavy whipping cream
¼ Cup Confectioners' sugar
1 Tbsp. Baking cocoa
½ Cup Semisweet chocolate chips
1 Tbsp. Shortening or coconut oil
2 Heath candy bars (1.4 ounces each), chopped
Instructions
Step 1: Preheat the oven to 350 degrees Fahrenheit.
Step 2: Prepare the brownie mix by following the instructions on the package for chewy fudge brownies. Spread the batter into a greased 8-in. springform pan.
Step 3: Place the pan on a double thickness of heavy-duty foil and securely wrap foil around the pan. Place the pan on a baking sheet and bake until a toothpick inserted in the center comes out with moist crumbs. Cool on a wire rack for 10 minutes and reduce the oven setting to 325 degrees Fahrenheit.
Step 4: Beat the cream cheese and sugars together in a large bowl until smooth. Then beat in pumpkin, vanilla, and yogurt. Add eggs and beat at a low speed until blended. Pour the mixture over the brownie layer. Place the springform pan in a larger baking pan and add one inch of hot water to the larger pan.
Step 5: Bake for 55-60 minutes until the center is almost set. Cool on a wire rack for 10 minutes. Use a knife to loosen the sides of the cake from the pan. Cool for an hour and refrigerate overnight, covering the cake once it's completely cooled.
Step 6: Remove the rim from the pan. Then prepare the topping by beating cream in a large bowl until it thickens. Sift confectioners' sugar and cocoa over the cream. Beat until soft peaks form. Spoon the mixture over the cheesecake.
Step 7: Melt chocolate chips and shortening in the microwave and stir until smooth. Drizzle over the cheesecake and sprinkle the chopped candy pieces.
No Bake Pumpkin Cheesecake (Spend With Pennies)
Ingredients:
8 oz. Cream cheese softened
1 Cup Milk + 1 Tbsp., divided
1 Tbsp. Sugar
1 Tsp. Vanilla
8 oz. Whipped topping
1 Prepared graham cracker crust
15 oz. Pumpkin canned
2 Packages of instant vanilla pudding 4 servings size each
1 Tsp. Ground cinnamon
1 Tsp. Pumpkin spice
Instructions
Step 1: In a large bowl, beat the cream cheese, sugar, vanilla, and a tablespoon of milk together. Then fold in half of the whipped topping, and spread the graham crust into a pan.
Step 2: In a different bowl, whisk a cup of milk, pumpkin, dry pudding mixes, and spices together until creamy. Spread the mixture over the cream cheese layer.
Step 3: Top the dessert with the remaining half of the whipped topping and refrigerate for at least 4 hours.
Vegan Double Layer Pumpkin Cheesecake (Vegan Blueberry)
8 oz. Vegan cream cheese
12 oz. Vegan sour cream
½ Cup Organic granulated sugar
3 Tbsp. Cornstarch, or sub with flour if needed
1 Tsp. Lemon juice
½ Tsp. Vanilla extract
¾ Cup Canned pumpkin puree
¼ Cup Brown sugar, packed
2 Tbsp. Almond milk or other non-dairy milk
¾ Tsp. Pumpkin pie spice
¼ Tsp. Ground cinnamon
1 Pinch salt
1 10-inch Graham cracker crust
Vegan whipped cream (optional)
Instructions
Step 1: In a medium-sized mixing bowl, beat the vegan cream cheese, vegan sour cream, organic sugar, cornstarch, lemon juice, and vanilla until completely smooth.
Step 2: Add a heaping cup of cheesecake filling to the base of an extra-large (10-inch) graham cracker crust. Spread out the mixture evenly.
Step 3: Add canned pumpkin puree, brown sugar, almond milk, cinnamon, pumpkin pie spice, and salt to the remaining cheesecake filling in the medium mixing bowl. Beat the ingredients together until smooth.
Step 4: Dollop the pumpkin filling gently over the first white layer of cheesecake. Then spread out until smooth. Leave the center mounded slightly higher to avoid cracking once baked.
Step 5: Bake at 350 degrees Fahrenheit in the center of the oven for 60 minutes or until the center is mostly set.
Step 6: Allow the dessert to cool at room temperature for at least an hour before placing it in the refrigerator.
Step 7: Chill in the refrigerator for a minimum of four hours or overnight. Serve with a dollop of cold vegan whipped cream.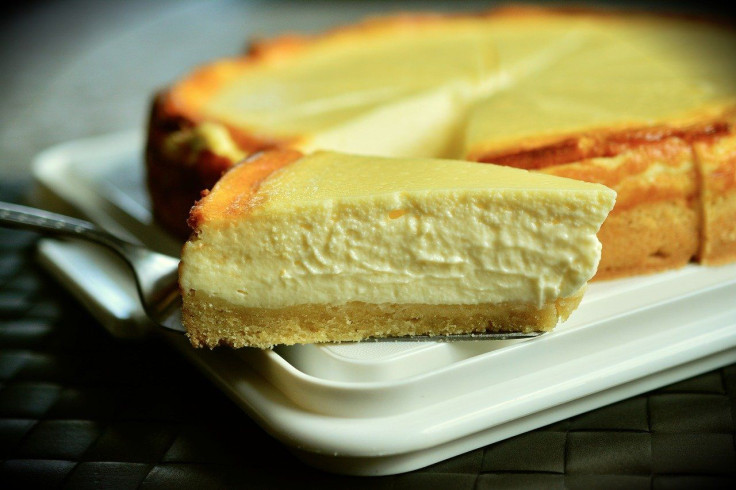 © Copyright IBTimes 2023. All rights reserved.