Natural-Gas Fracking Embraced in Obama's Energy Plan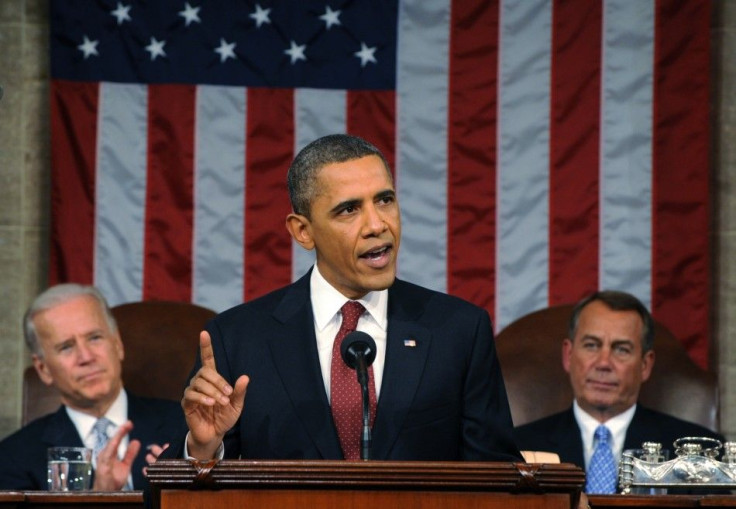 President Barack Obama made natural gas a central part of the energy plan detailed in his State of the Union address, taking a firm stance in a highly polarized debate about the method for extracting the fuel.
The push to harvest America's vast deposits of natural gas has pitted lawmakers and the energy industry against environmentalists, who contend the drilling technique known as hydraulic fracturing, or fracking, is unsafe and could contaminate groundwater supplies. Fracking entails blasting a mixture of sand, water and chemicals deep underground to dislodge natural gas trapped in shale rock formations.
We're disappointed in his enthusiasm for shale gas, Iris Marie Bloom, director of Protecting Our Waters in Philadelphia, told Bloomberg, adding that Obama spoke about gas as if it's better for the environment, which it's not.
Proponents of natural gas drilling say America's abundant reserves of the resource would allow the U.S. to wean itself off foreign energy imports, a position Obama has embraced. He said Tuesday that because America only has 2 percent of the world's oil reserves, oil isn't enough to meet energy demands.
We have a supply of natural gas that can last America nearly 100 years, and my administration will take every possible action to safely develop this energy, Obama said. In subsequent remarks in Las Vegas, the president called America the Saudi Arabia of natural gas.
The president vowed to make energy companies that drill on public lands disclose which chemicals they use for fracking. Natural gas emits about half the amount of carbon dioxide when burned as coal, although scientists have questioned the overall emissions benefits of switching to natural gas. Obama said in the State of the Union address that natural gas would power trucks and factories that are cleaner and cheaper.
America will develop this resource without putting the health and safety of our citizens at risk, the president said.
While Obama touted the booming natural gas industry's ability to create 600,000 jobs, critics say estimates about the profitability of natural gas may be overstated. After a New York Times probe found that energy companies may have exaggerated the economic benefits of drilling and downplayed the risks, multiple lawmakers called for investigations. A followup report by a U.S. Department of Energy-appointed panel called for more safeguards.
The public deserves assurance that the full economic, environmental and energy security benefits of shale gas development will be realized without sacrificing public health, environmental protection and safety, the report read.
Obama's plan for supporting natural gas use, unveiled on Thursday, includes tax incentives for converting medium- and heavy-duty trucks to natural gas, programs to convert city buses and trucks to natural gas and federal support for creating natural gas transportation corridors.
Prices for natural gas futures rose 2 percent on the N.Y. Commodities Exchange Friday.
© Copyright IBTimes 2023. All rights reserved.