NBA Playoffs 2014 Latest Betting Odds: Spurs, Heat, Pacers And Thunder's Chances Of Winning The Championship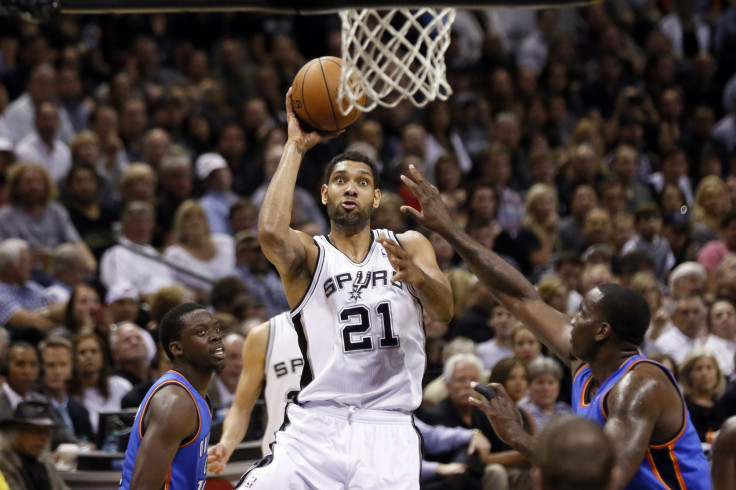 As we enter the thick of the NBA Conference Finals, a rematch between the San Antonio Spurs and Miami Heat looks to be most favored matchup among Las Vegas oddsmakers.
According to Bovada.lv, after blasting the Oklahoma City Thunder by 35 points for a 2-0 series lead in the West, Tony Parker and the Spurs are 5/6 favorites to move on and win the NBA title.
Miami is knotted 1-1 with the Indiana Pacers in the East, and maintains 13/10 odds to complete a three-peat after beginning the season as the overall favorite to win it all.
The Thunder and league-MVP Kevin Durant have 16/1 odds to climb out of the 0-2 hole and clinch a title, and Indiana has a 12/1 shot.
A Finals rematch in consecutive seasons is something the league hasn't seen since the Chicago Bulls and Utah Jazz battled in 1997 and 1998, but the Spurs and Heat could end that streak at 1/3 odds as the most likely matchup. An inaugural all-former-ABA Pacers-Spurs meeting in the Finals is next up at 15/4, a Heat-Thunder rehash from 2012 is at 9/1 and Pacers-Thunder comes in at 28/1.
Throughout Tim Duncan's four-title career, he's never led the Spurs to back-to-back Finals, and the Heat are the only franchise other than the Los Angeles Lakers to make repeat appearances in the final round since Chicago's second three-peat run from 1996 to 1998.
Indiana and star forward Paul George is hoping to make the franchise's first Finals appearance, and second all-time, since 2000's 4-2 series loss to the Lakers. The Pacers have now faced the Heat in three straight playoffs, having been eliminated the two previous seasons.
Counting the years they were known as the Seattle Supersonics before relocating, the Thunder are seeking the franchise's fifth Finals appearance and first championship since 1979. The Thunder's chances to advance to the Finals took a serious hit before the West Finals began after center Serge Ibaka was ruled out for the rest of the playoffs due to a serious calf injury.
The odds could shift dramatically following both Game Threes this weekend. The Heat and Pacers square off Saturday in Miami, with the latter hoping to reclaim home court advantage. San Antonio and Oklahoma City meet Sunday at Chesapeake Energy Arena, with the Thunder hoping to avoid a likely insurmountable 3-0 hole.
© Copyright IBTimes 2023. All rights reserved.