NBA Rumors: Tristan Thompson, Cavs Still Not Close To Signing A New Contract?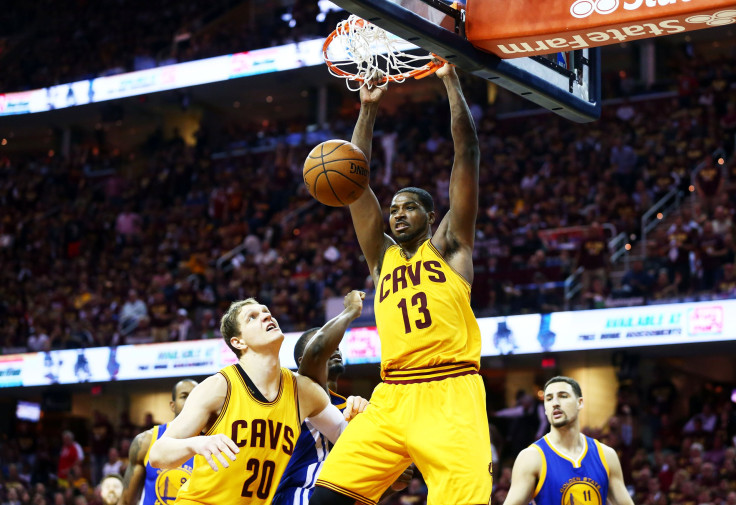 The Cleveland Cavaliers are widely expected to contend for the NBA title in 2015-2016 season, but it could be their last run with young power forward Tristan Thompson operating down low.
Thompson's agent, Rich Paul, told several media outlets Monday if his restricted free-agent client is forced to play under a one-year qualifying offer next season, he would be moving on from Cleveland.
"A Tristan Thompson qualifying offer will be his last year with Cavs," Paul told Northeast Ohio Media Group.
The one-year offer would be worth around $6.9 million next season, a slight bump from the $5.1 million Thompson earned in the final year of his rookie contract last season, but a far cry from the five-year, $90 million he desires. Unless he signs a new deal, Thompson will be an unrestricted free agent in 2016.
According to ESPN, talks broke off between Thompson's reps and the Cavs last month. The Cavs are reportedly offering far less than what Paul, who also represents Cavs star forward and friend LeBron James, is demanding for his client.
Thompson's restricted free agent status means the Cavs have the right to match any offer he receives, but only the Portland Trail Blazers and Philadelphia 76ers have the cap space to offer him a maximum-level contract and neither have reportedly shown interest.
Thompson is coming off an impressive postseason run, highlighted by his stellar work in the NBA Finals against the Golden State Warriors. However, Cleveland's salary cap situation has left very little space to give the 24-year-old a max deal.
Thompson averaged 10 points and 13 rebounds over 40.8 minutes per game in the Finals, but at 6-foot-9 he towered over an undersized Warriors frontline. It was by far the best stretch in Thompson's four-year career, and during the regular season he never averaged double-digits in points and rebounds. But the Cavs were significantly shorthanded after power forward Kevin Love went down with a separated shoulder in the first-round of the playoffs, providing Thompson additional opportunities on a thinning roster.
To be fair, when Love arrived via trade before last season Thompson's role was immediately diminished. He started every game the two previous seasons and put up more than 11 points and nine rebounds and shot 48 percent from the floor.
Cleveland and general manager David Griffin, however, have no cap space to offer Thompson a hefty long-term deal after re-signing Love, James, and shooting guard Iman Shumpert, and face a large luxury tax bill next season. According to Spotrac, the Cavs are on the hook for $88.6 million in player salaries next season. ESPN also reported earlier this summer that Cleveland owner Dan Gilbert may have to shell out $75 million in luxury taxes.
But several factors are in Thompson's favor. The Cavs came within two victories of the first championship in franchise history, and for the City of Cleveland in more than 50 years, and Gilbert knows what the title would mean to the city and his team's legacy.
Furthermore, James has said on multiple occasions that he wants Thompson to remain a Cav, and the four-time MVP's happiness has long been a priority for Cleveland. Last month, James responded to a fan on Twitter saying "of course" Thompson will re-sign because he "means way too much to our team success."
James also said during a practice in May that Thompson should be a Cav for life.
"Tristan should probably be a Cavalier for his whole career," James said according to CBS Sports. "There's no reason why he shouldn't. This guy is 24 years old, he's played in 340-plus straight games, and he's gotten better every single season. It's almost like 'What more can you ask out of a guy?'"
© Copyright IBTimes 2023. All rights reserved.