NBA Trade Rumors: Wes Matthews, Rajon Rondo, Corey Brewer Involved In Latest Discussions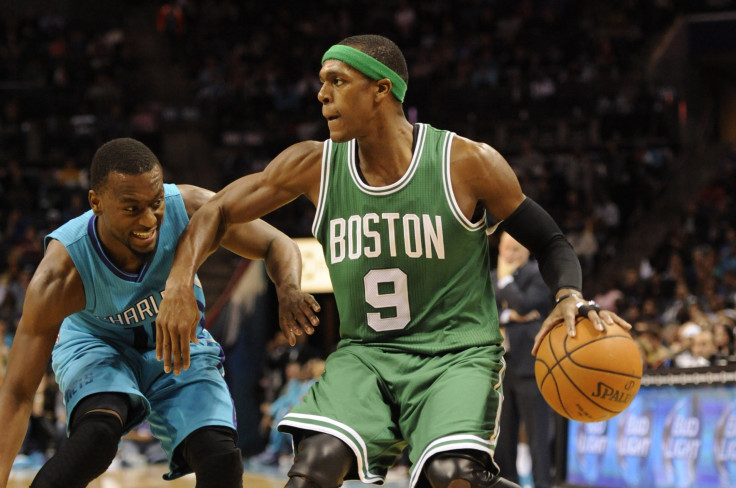 The NBA trade deadline is still two months away, but rumors continue to circulate about teams looking to move certain players. With Dec. 15 marking the first day in which free agents from the summer could be traded, some teams are exploring their trade options because it is clear they won't make a playoff run in 2015.
It's been reported that Lance Stephenson could be dealt, and although Carmelo Anthony doesn't appear to be on his way out of New York, a report that he might be willing to waive his no-trade clause has also made headlines. In addition to last year's free agents being the subjects of trade discussions, a few players that are in the final year of their contracts have also been targeted by other teams.
Below are three players that have been involved in recent trade talk.
Wesley Matthews
The Cleveland Cavaliers are looking to add a shooting guard, and Matthews might be the perfect fit to play alongside their three superstars. In addition to his affordable $7.2 million price tag, the 28-year-old's 16.3 points per game and defensive ability would make him an ideal option to play alongside LeBron James, Kyrie Irving and Kevin Love. Dion Waiters has struggled to adjust to life with his new teammates, and a move might be necessary for the Cavs to compete for a title.
Chris Haynes of the Cleveland Plain Dealer reports that the Cavs have reached out to the Portland Trail Blazers about acquiring Matthews. Even though the shooting guard is set to be a free agent in the summer, the Blazers are reportedly hoping to re-sign him, and have no plans to trade him. Winning 20 of their first 26 games, Portland has the fourth-best record in the Western Conference and are expected to make a strong push to reach the Finals.
Rajon Rondo
Rondo has been at the center of trade rumors in each of the last few years, but he might finally be dealt this season, because he's in the final year of his contract. According to multiple reports, the Boston Celtics have discussed trading Rondo with a few teams, and the most serious talks have been with the Dallas Mavericks.
ESPN.com's Marc Stein reports that Boston and Dallas have talked about a potential deal that would send Brandan Wright and at least one first-round draft pick to the Celtics. Wright leads the NBA with a 74.8 field-goal percentage, averaging 8.8 points, 4.1 rebounds and 1.6 blocks per game. Dallas starts Jameer Nelson at point guard, who in his 11th season and averaging career-lows of 7.3 points per game and 37.4 percent field-goal shooting.
The New York Knicks, Houston Rockets, Los Angeles Lakers and Sacramento Kings have also reportedly engaged Boston in talks about Rondo.
Corey Brewer
Brewer has been traded multiple times in his career, and he could be dealt again in the 2014-2015 season. ESPN.com reports that the Minnesota Timberwolves have put him on the trading block, as they continue to rebuild their roster.
Minnesota made the most significant deal of the offseason, sending Kevin Love to Cleveland for Andrew Wiggins and Anthony Bennett, the last two No.1 picks in the NBA draft. Trading their best player has made the Timberwolves the worst team in the West, winning just five of their first 24 games. Brewer has been one of the team's top performers this season, but he's already in his eighth year and could be used as an asset to help Minnesota acquire younger talent.
ESPN.com reports that the Rockets and Cavaliers are the most likely destinations for Brewer. Cleveland does not want to give up a first-round pick, which Minnesota wants. Houston is hopeful that they can get a trade done by giving up a high second-round selection.
© Copyright IBTimes 2023. All rights reserved.