Nelson Mandela Memorial: Barack Obama, World Leaders, Celebrities Gather To Honor Madiba, Former South African President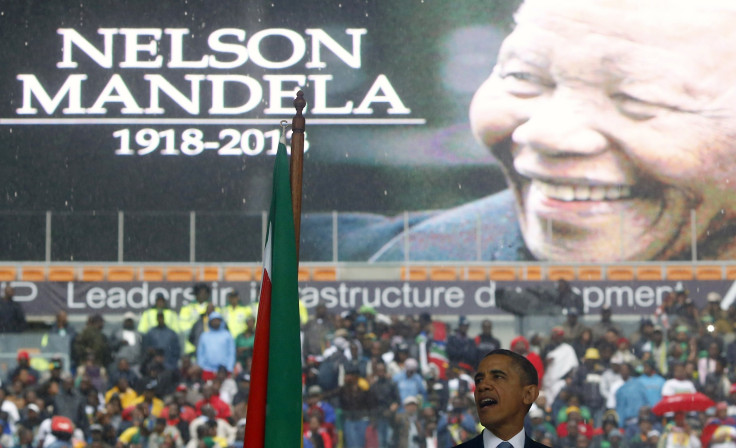 Update: 2:56 p.m. EST:
Dozens of current and former world leaders, including President Barack Obama, former U.S. Presidents George W. Bush, Bill Clinton and Jimmy Carter, Prime Minister David Cameron, former Prime Ministers Tony Blair, Gordon Brown and John Major, and French President Francois Hollande, attended a national memorial service in Soweto, South Africa, for former President Nelson Mandela, the BBC reported.
Tens of thousands of South Africans also crowded Soweto's FNB soccer stadium for the memorial, often singing, dancing and cheering in warm, loving tribute to a man who sacrificed so much to achieve freedom, democracy and reconciliation for a country torn apart by years of racial segregation. Mandela, 95, died Dec. 5 at his home in Houghton, a Johannesburg suburb, after a prolonged illness.
The country is observing a series of commemorations leading up to the state funeral on Sunday.
Many African heads of state were in South Africa for the event, including longtime Zimbabwe despot Robert Mugabe. Also at the stadium was U2 frontman Bono and movie star Charlize Theron, who have notably used their fame to try to combat the scourge of HIV in South Africa. Obama was accompanied to South Africa on Air Force One by George W. Bush, Laura Bush and Hilary Clinton. Bill and daughter Chelsea Clinton flew on a separate plane.
Obama has said that Nelson Mandela has been a huge inspiration for his own political career. At the memorial, he said Mandela was a "giant of history," calling him the last great liberator of the 20th century. He said, "It is hard to eulogize any man ... how much harder to do so for a giant of history, who moved a nation toward justice." He said Mandela had taught the world the power of action and the power of ideas, and that it had taken a man like Mandela to free not only the prisoner but also the jailer. Obama said: "We will never see the likes of Nelson Mandela again. While I will always fall short of Madiba (Mandela's clan name), he makes me want to be a better man."
On his way to the podium, President Obama shook hands with Cuban President Raul Castro. Castro later paid tribute to Mandela as the "ultimate symbol of dignity and the revolutionary struggle." Under his brother, Fidel Castro, Cuba was a vocal critic of apartheid, and Mandela had expressed gratitude for that support. Mandela was known to be fiercely loyal to those who supported the ANC during the apartheid years, including former Libyan leader Moammar Gadhafi, former Palestinian leader Yasser Arafat, Fidel Castro and others.
In his speech, U.N. Secretary General Ban Ki-moon said there was "sorrow for a mighty loss and celebration of a mighty life". He said: "South Africa has lost a hero, it has lost a father. ... He was one of our greatest teachers. He taught by example. He sacrificed so much and was willing to give up all he had for freedom and democracy."
Mandela was sentenced to life in prison after being found guilty of treason at the Rivonia Trials, which took place between 1963 and 1964. He was the leader of the armed wing of the African National Congress and said his organization turned to violence when all chances of civil communications with the white-minority government failed. The first speaker at the memorial, fellow inmate at Robben Island prison Andrew Mlangeni, recounted that Mandela "created hope when there was none."
While the memorial was held in pouring rain, Defense Minister Nosiviwe Mapisa-Nqakula said: "It's a blessing from the ancestors welcoming a son of the soil."
Mandela's widow, Graca Machel, ex-wife Winnie Madikizela-Mandela, and their children and grandchildren were among the mourners. Mandela's successor as president, Thabo Mbeki, was in attendance but did not speak at the memorial.
Current South African President Jacob Zuma said Mandela was "one of a kind. ... a fearless freedom fighter who refused to allow the brutality of the apartheid state to stand in the way of the struggle for the liberation of his people." Zuma announced he was renaming the Union Buildings in Pretoria, where Mandela will lie in state, as the Mandela Amphitheatre. Zuma was booed by some in the crowd: He is mired in corruption currently.
Brazilian President Dilma Rousseff, Chinese Vice-President Li Yuanchao, President Hifikepunye Pohamba of Namibia and Indian President Pranab Mukherjee also made speeches. But Prime Minister Benjamin Netanyahu of Israel controversially did not attend the ceremony; however, Israel's president did. Other mourners in attendance were Oprah Winfrey, Sir Richard Branson and Peter Gabriel.
The ceremony ended with a tribute from Nobel Peace Prize laureate Archbishop Desmond Tutu.
Nelson Mandela's body will lie in state in Pretoria for three days. The state funeral will take place on Sunday in his home village of Qunu in Eastern Cape province.
© Copyright IBTimes 2023. All rights reserved.