Neo-Nazis Target Jews In Armed March In Alt-Right Leader Richard Spencer's Hometown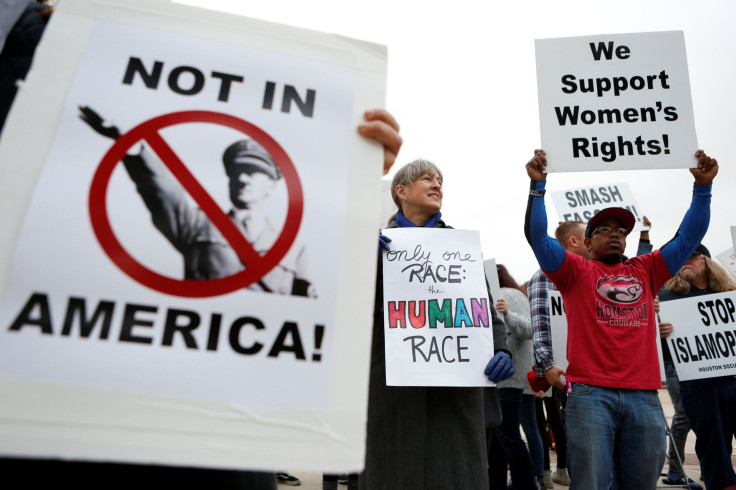 An influential leader of the neo-Nazi movement has announced plans for an armed, anti-semitic march in Whitefish, Montana, home of another influential leader Richard Spencer, the head of the so called white supremacy group, the alt-right.
Andrew Anglin, editor of The Daily Stormer, posted a graphic advertising the rally after anti-hate groups called him out for targeting a Jewish community in Montana in a blog post. That initial post demanded Anglin's supporters "take action" by harassing the Jewish community in Whitefish for "threatening" Spencer's local family business, reportedly operated by his mother. The graphic featured an image of the Aushcwitz concentration camp, along with a Star of David with the word "Jude" placed above it.
"Currently, my guys say we are going to be able to put together about 200 people to participate in the march, which will be against Jews, Jewish businesses and everyone who supports either," Anglin wrote in an accompanying blog post published Thursday, Hareetz reported Monday. The march is slated for January, but a date had not been specified.
Spencer, also the president of a white supremacist think tank titled the National Policy Institute, quickly rose to notoriety following the November election of President-elect Donald Trump after organizing a victory celebration for the alt-right in Washington, D.C.
"Hail Trump, hail our people, hail victory!" Spencer said in his speech to the National Policy Institute, which has been viewed over 43 million times on Facebook. "We recognize the central lie of American race relations: we don't exploit other groups, we don't gain anything from their presence, they need us and not the other way around."
Spencer does not have a staffing position on Anglin's controversial website, which is known for its hateful anti-black, anti-semitic, anti-minority content. His teachings are essentially synonymous with that of The Daily Stormer's, however, which has taken to his apparent defense after alleging the Jewish community was threatening his mother's company.
That doesn't appear to be the case whatsoever, though. The Anti Defamation League slammed Anglin for his targeting of Jews in Montana in a statement Friday, reporting numerous people have received threats throughout Spencer's hometown by apparent neo-Nazis.
"Not only is Anglin harassing the Jewish community of Whitefish, he is at the same time exploiting the situation there to promote anti-Semitic conspiracy theories about Jewish power and control," the Anti Defamation League wrote. "He alleges that Jews have targeted white supremacists and anti-Semites but now he is somehow turning the tables on them."
Local rabbis, meanwhile, have called on Whitefish residents to stand in solidarity with the Jewish community by lighting a Menorah on their windowsills.
© Copyright IBTimes 2023. All rights reserved.