Netflix's 'Cheer' Finale: Watch Navarro's Complete Daytona Routine [VIDEO]
Netflix's "Cheer" docu-series follows the cheerleaders at Navarro College in Corsicana, Texas, and it's all leading up to the National Cheerleaders Association Championship in Daytona Beach, Florida. Netflix wasn't allowed to film at the 2019 competition, but a full HD video is available online.
The video gives a full view of the complete routine, which includes fan-favorite cheerleaders like Jerry, Morgan, Gabi, La'Darius and Lexi. The complex 2-minute routine is impressive, making it clear why Navarro won first place. Watch below:
Netflix included iPhone footage in the "Cheer" finale. "Varsity Spirit denied our crew access to the College Nationals Championship Competition," a title card revealed. "The following footage was captured by attendees at the event."
However, Varsity Spirit says they were willing to offer up their own footage for the show. TMZ reports that the company "basically [said] they don't allow outside production teams to film during the proceedings, mostly to avoid unnecessary distractions for the athletes. As for why Netflix and co. allegedly turned down Varsity's own footage ... unclear."
However, they might ease up the rules for future competitions. With Netflix's "Cheer" being such an immediate success after releasing on Jan. 8, attracting attention from celebs like Reese Witherspoon, J.J. Watt, Chrissy Teigen, Sam Heughan and Brie Larson, there might be a second season. TMZ reports that Netflix and Varsity Spirit are already in talks to work something out for future competitions.
In any case, fans will be thrilled to have a complete wide shot of the entire Navarro routine from the "Cheer" finale. Fans watched coach Monica Aldama prep the cheerleaders through six episodes for that competition. They won first place.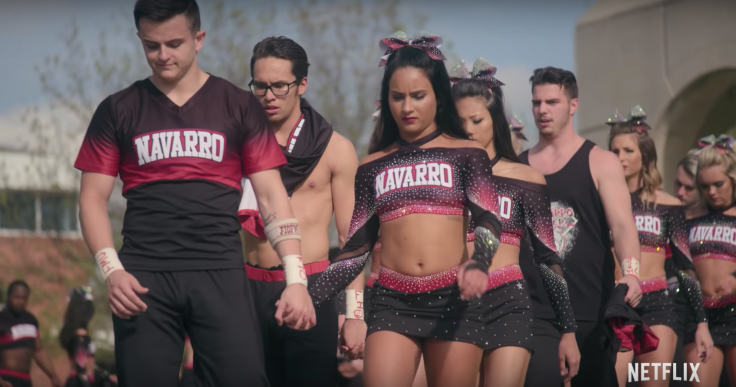 © Copyright IBTimes 2023. All rights reserved.