Netflix's Chief Content Officer Calls 'Jessica Jones' Ratings Released By NBC 'Really Inaccurate'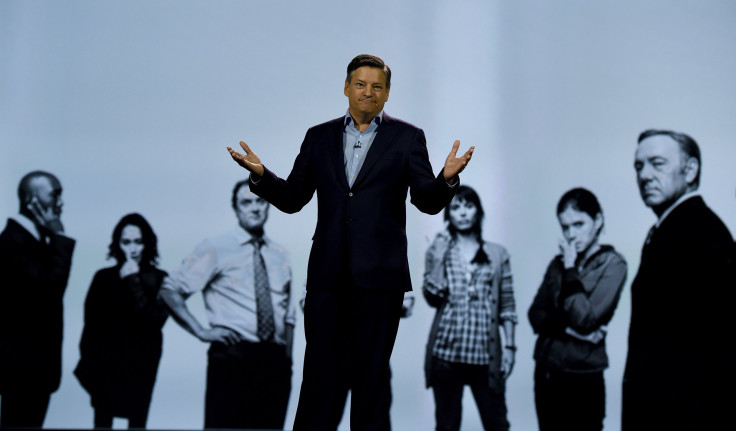 One measure of how much a company has managed to disrupt an industry is the amount of time competitors and the press devote to discussing it. By that metric, newly minted "global TV network" Netflix has been quite disruptive indeed: At a semi-annual gathering of TV reporters in Pasadena this week, one network spent a decent chunk of a presentation talking about ratings for streaming services Netflix and Amazon while several questions for another network's executive revolved around that data.
Netflix Chief Content Officer Ted Sarandos got the chance Sunday morning to respond to all the hubbub, including the ratings figures released by NBC. He seemed amused anyone would spend time commissioning a study at a research firm. "If it's a big enough prize someone is willing to spend money to track," he told the assembled reporters. "It's what I believe to be really inaccurate data. The outputs don't reflect any reality we track." That said, Sarandos added, "there's really no upside in me getting it right," so don't count on Netflix releasing any numbers as a rebuttal.
It's worth a reminder, too, that raw ratings simply don't matter to Netflix, particularly those that just take into account the U.S. population. "There is not an apples-to-apples comparison to any existing Nielsen rating," Sarandos said. The company is well and truly focused on the outside world now; just 10 days ago, it launched simultaneously in more than 130 countries, bringing its global total to more than 190. "If a show performs over the long run, it's valuable," Sarandos said. "
But certain analysts and TV industry insiders have been whispering for some time about the wonky-seeming financials of Wall Street's Golden Boy, and FX Networks President and CEO John Landgraf — after praising the streaming service for its excellent content — finally gave full voice to those whispers Saturday: "There's a perception that's very carefully cultivated in Silicon Valley, that they're going to take over everything, so they don't have to show earnings because the future is theirs," he said. FX recently lost a couple of bidding wars to Netflix for Aziz Ansari comedy "Master of None" and incredibly expensive British drama "The Crown." "They just overwhelmed us with shock-and-awe levels of money and commitment," Landgraf said.
Netflix is to release its 2015 annual report Tuesday after the markets close. Despite the massive global launch and continued global growth, domestic subscriber growth is slowing. Investment firm Wedbush, which considers Netflix stock overvalued, lowered its target to $40 in a note to investors this week. At Friday's close, Netflix was trading at $104.
The streaming service plans to spend $6 billion on content — original and acquired though Sarandos wouldn't discuss the split between those categories — in 2016 alone, and he sees no spending ceiling in the near future despite some potential Wall Street potholes. "We'll continue to grow subscribers, and that's the key," he said.
© Copyright IBTimes 2023. All rights reserved.
FOLLOW MORE IBT NEWS ON THE BELOW CHANNELS