New Photos Suggest Trump Flushed Docs Down White House Toilet
KEY POINTS
Reporter Maggie Haberman released photos showing documents down Trump's WH toilet
Haberman said she received the images from a Trump WH source
Haberman details these allegations further in her upcoming book 'Confidence Man'
Donald Trump's handling of classified documents has been questioned ever since he left Washington. The latest allegations against him in this regard came from reporter Maggie Haberman, hours before the FBI's raid on Mar-a-Lago.
Haberman had previously shared a scoop from her upcoming book titled "Confidence Man: The Making of Donald Trump and the Breaking of America" that a White House (WH) toilet was repeatedly found clogged by staff when Trump held the presidential office. The book claimed staffers believed it was Trump flushing those papers, and, now, Haberman has doubled down on those claims.
The New York Times and CNN-affiliated reporter released two images showing torn-up pieces of papers flushed down a toilet. The drenched papers bore what appeared to be Trump's angular handwriting in black marker. Haberman said one of the images was from a WH toilet, while the other one was taken during an overseas trip. She received those images from a Trump WH source, she told CNN.
"Who knows what this paper was? Only he would know and presumably whoever was dealing with it, but the important point is about the records," she told John Berman and Brianna Keilar.
In another interview with Keilar in February, Haberman spoke at length about certain discoveries at Trump-occupied WH.
"As I was reporting out this book, I learned that staff in the White House residence would periodically find the toilet clogged, the engineer would have to come and fix it and what the engineer would find would be wads of, you know, clumped up, wet, printed paper, meaning it was not toilet paper, this was either notes or some other piece of paper that they believed he had thrown down the toilet."
She continued, "What it could be, Brianna, could be anybody's guess. It could be Post-its, it could be notes he wrote to himself, it could be other things. But certainly does add, as you said another dimension to what we know about how he handled material in the White House."
Around the same time, Trump said he was exempt from submitting WH records to the National Archives and Records Administration (NARA) after his presidency ended.
"In actuality, I have been told I was under no obligation to give this material based on various legal rulings that have been made over the years," he said, referring to the boxes that were handed over to NARA by Trump reps.
He also spoke about Haberman's claims saying, "Also, another fake story, that I flushed papers and documents down a White House toilet, is categorically untrue and simply made up by a reporter in order to get publicity for a mostly fictitious book," The Business Insider reported.
Haberman was called out by many for not reporting on the scoop when Trump was still in office, an accusation she firmly denied.
According to the Presidential Records Act created in 1978, the president must preserve all records created during their tenure and hand it over to the NARA.
Archivist David Ferriera said they had recovered 15 boxes of WH records and other items stored at Mar-a-Lago for a year, instead of being handed over to the National Archives at the end of Trump's presidency in 2021. Attorney General Merrick Garland had told reporters in February the DOJ "will do what we always do under these circumstances: look at the facts and the law and take it from there."
Trump's Mar-A-Lago residence was reportedly "raided" by the FBI in what the former president had called an act of "prosecutorial misconduct."
"These are dark times for our Nation, as my beautiful home, Mar-A-Lago in Palm Beach, Florida, is currently under siege, raided, and occupied by a large group of FBI agents," he said in a statement, which as posted on his Truth Social network.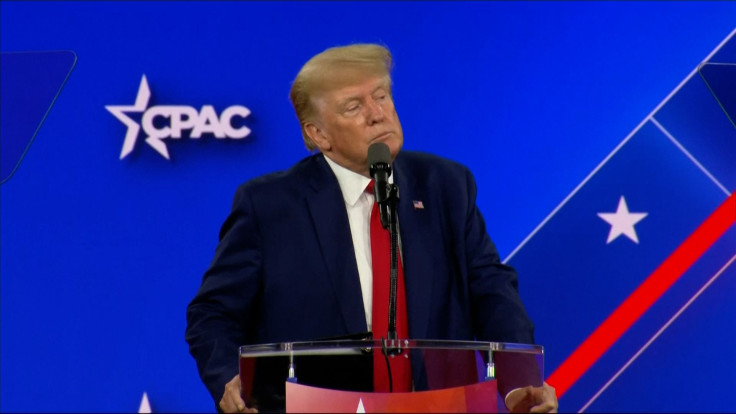 © Copyright IBTimes 2023. All rights reserved.