New York Bombing: Governor Calls Explosion 'Act Of Terrorism'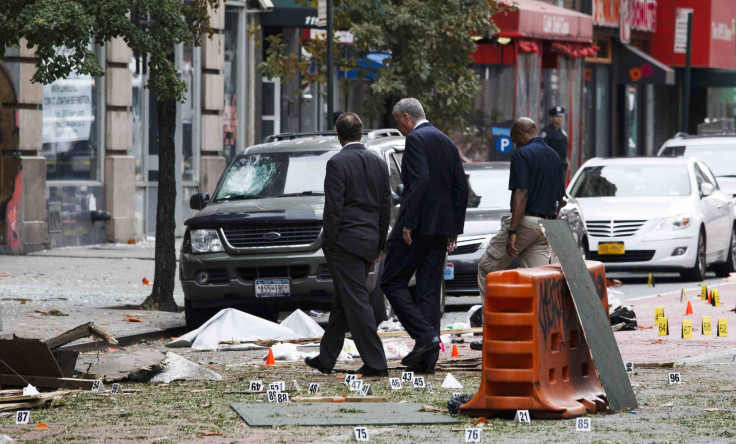 UPDATE: 7:33 a.m. EDT — New York police have identified 28-year-old Ahmad Khan Rahami as suspect in Saturday's bombing at the Chelsea area in Manhattan, New York City, according to reports on Monday.
New York City Mayor Bill de Blasio said Rahami is a New Jersey resident and naturalized United States citizen. The mayor, however, added that it is "too early to say" if Rahami has connection to any terror network.
Meanwhile, New York Gov. Andrew Cuomo said that he "wouldn't be surprised if it zeroes in on a particular individual, today even," and he "wouldn't be surprised if we found a foreign connection to the act."
UPDATE: 7:18 a.m. EDT — Subways in New York City have resumed operations at all stations in Chelsea, according to Chief Joseph Fox of NYPD Transit. However, a No. 1 train station exit at 23rd Street is still affected.
UPDATE: 11:08 p.m. EDT — The FBI and New York Police Department took five people into custody Sunday night in connection with an explosion that rocked Manhattan's Chelsea area the previous day, ABC News reported citing sources. The blast injured 29 people.
The five people were reportedly stopped on the Verrazano–Narrows Bridge that links Brooklyn and Staten Island.
UPDATED: 3:40 p.m. EDT — MSNBC reported Sunday police are examining a video that appears to show a man wheeling a suitcase up the sidewalk near the site where a suspected pressure cooker bomb was left on a New York street near the site of an explosion that left 29 people injured.
The report said police are unsure whether the suitcase belonged to the individual or if the person just saw a suitcase lying on the street and decided to take it.
The video came from a surveillance camera of a nearby store.
MSNBC also reported police are investigating whether the bomb explosion, the pressure-cooker device and a partial explosion in New Jersey are related because old-style flip phones were used in all three devices.
UPDATED: 3:15 p.m. EDT — New York police Sunday investigated the authenticity of a Tumblr page identifying itself as the "manifesto" of the New York City bomber.
A police source told the New York Daily News the alleged bomber threatened more blasts.
The Tumblr page was titled, "I'm the NY Bomber," but the page was no longer available Sunday afternoon.
The Daily News said the page had a rainbow flag in its banner, leading police to question the LGBT community.
"You probably have all seen the news by now, the explosives detonated in New York City, that was me," the first post said. "I did it because I cannot stand society. I cannot live in a world where homosexuals like myself as well as the rest of the LGBTQ+ community are looked down upon by society."
A second post read: "I don't know exactly how I feel about taking human lives. I suppose I'm just going to have to move forward knowing that what I am doing had a purpose and will in fact make a difference. I'll keep you all posted."
UPDATE: 12:50 p.m. EDT — New York Police Commissioner James O'Neill said Sunday no one has claimed responsibility for the blast in the Chelsea neighborhood that left 29 people injured.
At a news conference with Mayor Bill de Blasio, the FBI and others, O'Neill said he reviewed a video of the blast.
"What I saw was the blast, vehicles leaving the scene and people running up the street," he said.
O'Neill said it was unclear whether the bombing was part of an organized terror plot.
"If it is an act of terrorism, we're going to come out and say it," he said, adding it's too early in the investigation to draw any conclusions.
DeBlasio said motivation for the bombing has yet to be determined.
O'Neill said it was unclear whether there was any significance to the location of the bombing and a second site where an undetonated device was found nearby.
Police said no connection had been found between Saturday's bombing and a bombing earlier this summer in Central Park.
UPDATE: 12:30 p.m. EDT — New York Mayor Bill deBlasio told a Sunday news conference the city would augment its police presence in the wake of Saturday's bombing.
"You will see a very substantial NYPD presence this week — bigger than ever," deBlasio said.
"This was a very serious incident. … We are not going to offer you easy answers. … We have a lot more work to do."
DeBlasio urged New Yorkers to "be vigilant. Police need your help."
New York Police Commissioner James O'Neill said police are vetting numerous tips that have come in in the wake of the bombing. He said police have foiled 20 terror plots in the last two years and vowed, "This violent criminal act is going to be solved."
Original story:
New York Gov. Andrew Cuomo Sunday called an explosion in New York's Chelsea section an obvious "act of terrorism" and vowed those responsible will be caught.
"A bomb going off is generically a terrorist activity. That's how we'll consider it. And that's how we will prosecute it," he said, echoing Mayor Bill deBlasio, who labled the incident "an intentional act."
No one had claimed responsibility by Sunday morning.
The explosion Saturday injured 29 people just days before world leaders are to descend on New York for the U.N. General Assembly. A second bomb failed to detonate, and it was unclear whether it was connected to the blast. It was not believed the blast was connected to a garbage can explosion in New Jersey ahead of a Marine Corps charity run.
The injured were treated and released from area hospitals by Sunday morning, the New York Daily News reported.
In a third incident, a knife-wielding man dressed as a security guard injured eight people at a Minnesota shopping mall.
Investigators Sunday combed the area of the blast for evidence and examined video footage as 1,000 additional New York State Police troopers and National Guard troops have been dispatched to bus terminals, airports and subway stations to beef up security.
"I want New Yorkers to be confident when they go back to work on Monday that New York is up and running and we're doing everything that we need to do," Cuomo said.
"We will find whoever did this or whatever group did this and they will be brought to justice, period. We will not allow these type of people and these type of threats to disrupt our life in New York. That's what they want to do. We are not going to let them do it. This is freedom. This is democracy, and we're not going to allow them to take that from us."
He said there was no known link to international terrorism.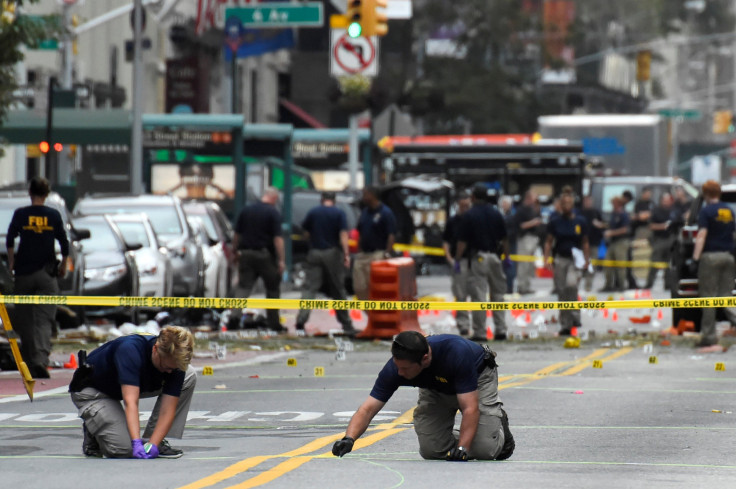 Investigators found a pressure-cooker device about a half-mile from the blast site, along with a piece of paper with writing on it, CNN reported. The device was sent to the FBI facility in Quantico, Virginia, to be analyzed.
"All I saw was a big light, and then I heard the explosion," Sam Smith told CNN as he watched investigators and waited for word about whether he could return home Sunday morning. "I could feel it in my chest. It took me an hour and a half before I could hear again."
"We smelled something, like an intense sulfur smell, and saw smoke coming out of this building. I saw pieces of metal -- not large, but not small either, said Danilo Gabrielli, 50, who was watching television in his apartment about a block away.
© Copyright IBTimes 2022. All rights reserved.
FOLLOW MORE IBT NEWS ON THE BELOW CHANNELS